2019 update:


Recommended Conveyancing Solicitors That Won't Rip You Off
Below are the conveyancing services we use
Key takeaway
Having bought and sold over 6,000 homes in the last 12 years we've had to deal with a lot of conveyancers.
From bitter experience we can tell you there are only a handful that:
Won't rip you off.
Won't baffle you with jargon.
Won't make a mess of your move.
…Read on to find conveyancers we recommend and use ourselves.
---
---
Some good news about conveyancing
Good conveyancing can be cheap…You just have to know where to look.
Unfortunately many estate agents & mortgage brokers still recommend property lawyers not on merit, but on the size of their referral fee (£600 is not unheard of – you pay for that by the way)!
So if you want to cut the cost of your conveyancing solicitor, online is where you'll find the best deals.
Of course, instructing a conveyancer over the Internet raises it's own set of questions:
"Who are you dealing with?"
"Are they any good?"
"Are their online quotes accurate?"
To help steer you towards the 'best of the net', we've written reviews of the online conveyancing services we use, and rely on daily.
Are our recommendation respected and any good?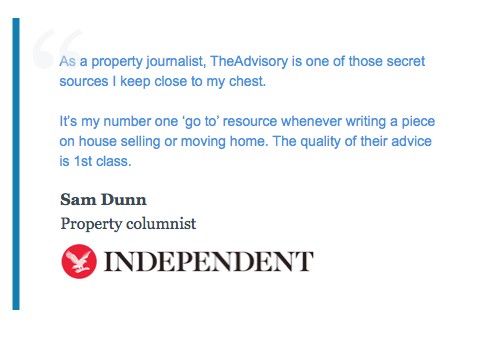 And here's a recent email from one of our readers…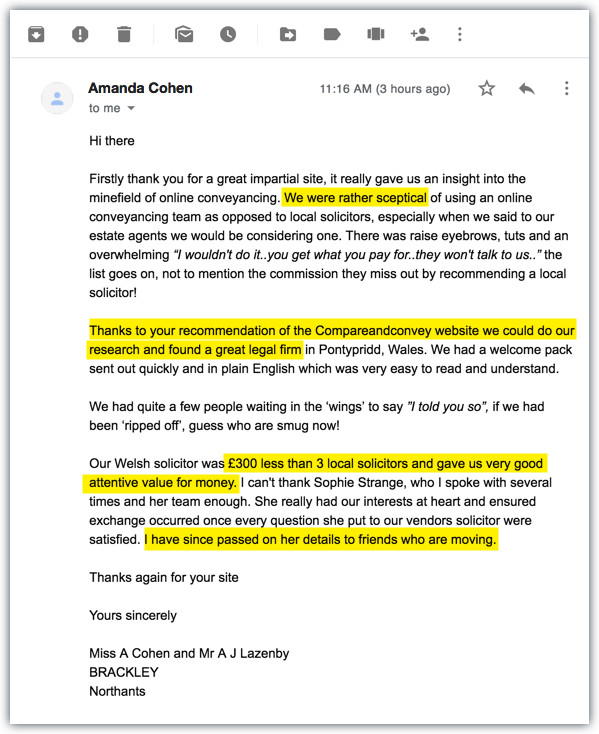 Our recommended conveyancing comparison service

Best for:
Buying or selling a freehold property in England or Wales
Buying or selling leasehold property in England or Wales
Remortgaging a residential property in England or Wales
What you need to know
CompareAndConvey are the UK's original conveyancing price comparison site.
A favourite of the IFA industry and recommended by many house builders looking to make sure their buyers have a smooth move.
They're the safe choice if you want to guarantee you get a slick & highly personal level of service.
You'll find many imitators advertising on Google but none have the same quality of conveyancers on offer.
For example, instead of the usual 'conveyor belt' call centre rubbish – you'll find the cream of trusted conveyancing specialists such as:
Mark Swatts Morse
Garner Canning
Hek Jones
John W Davis
They all provide quick & reliable conveyancing services. And they're all proper solicitor firms or licensed conveyancers.
Benefits of the service
All these top quality conveyancers quote 'discounted fixed fees' on 'NO completion – NO legal fee' basis (backed by genuine service level guarantees).
What do I mean by "discounted fixed fees"!?…
Well, because CompareAndConvey generates such a large, steady and reliable volume of business – economies of scale allow the solicitors they work with to reduce their operating costs and offer you their services at the cheapest price possible.
You will pay a substantially cheaper price by instructing a solicitor through the CompareAndConvey website compared to going direct to that same solicitor.
No hidden fees
It is a mixed blessing that the Internet has turned conveyancing in to such a competitive industry.
On the one hand it has forced down prices but on the other, it has led to most solicitors having to cheat in order to survive.
The nasty practice of quoting very low headline prices but hiding away in the small print (or under a vague supplemental fee section) many £100's of standard and compulsory extras is everywhere – online and in the high street…
…So keep your eyes peeled for those tempting  £199 conveyancing adverts – Sadly, they are too good to be true.
On the other hand, with CompareAndConvey, the price they quote is the price you pay.
Tested for your peace of mind
We regularly mystery shop the UK's top 100 conveyancing services and always find the quotes on CompareAndConvey to be fully itemised, 100% accurate and simple to understand.
CompareAndConvey is one of the few places where the online quote matches the solicitor's final bill.
For added peace of mind, you can even read live unedited client reviews for each solicitor from within the CompareAndConvey website.
Bottom line
To make your transaction as stress-free as possible, and to avoid costly conveyancing mistakes, the CompareAndConvey service is highly recommended and one I personally use (and rely on) regularly.
CompareAndConvey: Get fast online quotes here!
+15,000 UK home movers have been happy with this service.
Conveyancing quotes: A word of warning!
It's scandalous how many solicitors are out to con you by providing quotes that require a degree in Legal Forensics to enable you to uncover the numerous (and hefty) hidden extras they contain.
Before you commit to using any High Street Solicitor, online conveyancing website or estate agent recommended service, please read our money saving guide:
Read: How to avoid being fleeced by conveyancing solicitors