Sell Your House Fast:


Best Options to Sell Quickly (in 2023)
Sell House Fast: Find Reliable Companies
---
---
Table of Contents
---
Frequently Asked Questions
✅ How to sell my house fast for cash?
The only way to guarantee a property sale (that you have total control of), is to sell to a reputable cash house buying company. The difficulty is identifying trustworthy companies as the home sales industry has a very negative reputation. TheAdvisory, with experience working with hundreds of home sellers, provides FREE support & guidance to home sellers looking to find reputable cash buying companies. Don't fall victim to buyer scams and underhanded tactics that could rob you of £10,000's and waste months of your time.
✅ How to sell my house fast for market value?
To sell your home or property for the full market value you will need to use local estate agents. The best strategy is to use two or more estate agents working in competition with one another. The agent that can complete the sale first receives 100% of the commission. This is called "multi-agency", and there is a 'right' way and a 'wrong' way to use this real estate technique to your advantage.
✅ Should I use a "quick sale estate agent"
No. These quick-sale home buying companies are nothing more than expensive "online only" estate agents. Any company that tells you that they have a "national (or international) database of property investors all willing to buy your house for close to full market value" should be treated with scepticism.
Top Options For Selling Your House Fast
Selling a house can be a long and stressful process, but there are ways to speed this up and sell your property much faster.
TheAdvisory helps homeowners with free advice for selling their homes in the fastest and most efficient way possible (for the best market price).
Below we detail the fastest ways to sell your house and include options that feature; no fees, no brokers, easy contract and quick price negotiations.
Avoid scams and unreliable companies by taking advantage of our expert impartial advice to guide you through the sale of your house.
#1. Sell your home quickly to a cash house buying company
Cash home buying companies are the fastest way to turn your house or property into quick cash.
One of the biggest benefits of using a house sale company is that home owners receive a guaranteed quick offer price with deal completion within their desired timescale.
The top reasons people use house sale companies is because of the high transparency and low charges associated with no obligation home offers.
Simple sales process that can be stress (and hassle) free.
It is the only way to 100% guarantee a home sale.
Often used by homeowners having trouble meeting mortgage payments.
Cash buying services are commonly used by homeowners dealing with personal circumstances such as; divorce proceedings, probate, or a home repossession.
No costs and no estate agent fees or commission to pay.
No estate agency contracts to sign.
No EPC needed and no photos needed.
Solicitors' bills are often paid for.
Genuine companies with cash funds can put money in your bank within 28 days with no issues.
Expect realistic discount percentage offers to be around 75-80% of market value.
The cash sale offer amount should be based on an RICS survey.
Some house buyer companies can tailor their fast sale solution to your needs or situation.
No viewings or home staging is needed (except for estate agent and surveyor valuations) as everything is done remotely.
Properties in any condition are usually considered.
Watch out for unfair or misleading items in contract terms presented to you by a cash house buying team.
Not suitable for property sales over £500k.
Lots of fake companies and scams to avoid.
Get matched to safe-to-use cash property buying companies
#2. A fast home sale through a property auction
Worth considering if the sellers property needs work, has a defective title, or has a short lease.
Finding a property buyer is not guaranteed.
Completion dates are usually set for 28 days after the hammer falls.
Be wary of anyone pushing "The Modern Method" of auction (it's NOT free and it doesn't always work).
Expect to achieve roughly 75-85% of market value.
#3. 30-Day house sale specialists
Perfect for you if:
Sell house fast companies won't pay you an acceptable price.
Traditional estate agents have failed to find you a serious buyer.
You're looking for the fastest way to sell for 95-100% market value.
Need to know:
For a quick house sale, are you willing to accept a small discount from the market value?
If you said 'yes' then you're not alone. There are 1000's of house sellers out there just like you.
To meet this demand from house sellers, in recent years an increasing number of 'Quick Sale Estate Agency' services have been created.
Most of these quick-sale businesses are 'off-shoots' or 'sister' companies of cash house buying firms.
You will know you are speaking to one if they push 'revolutionary marketing systems' or 'databases of investor cash buyers' (all willing to pay close to full market value in 30 days).
Here's the thing…
As confident as their friendly sales representative will claim to be (at being able to find you a qualified home buyer), in our opinion, these agencies are to be avoided as they tend to offer nothing more than empty promises, high fees, and a slick sales patter carefully crafted to get you to sign-over control of your property sale.
Sure, their testimonials will be glowing (until you scratch the surface), but know this – No cash house buying company uses its own 'sister' sell quickly estate agency to sell houses they buy – That should speak volumes!
But that's not the whole story. This sector is NOT all hot air and false promises…
If you are willing to sell your house for a small discount in return for a fast home sale, then there are some genuine 30-Day House Sale Specialists out there worth speaking to.
These genuine specialists are the true 'quick sale' experts that cash house buying companies actually do use to sell houses quickly in the markets that they buy in.
These home-selling businesses are not expensive and they are very effective at beating the market so you sell faster and secure multiple potential buyers at 95%-100% of market value.
FAQs – 30 Day Sale Specialists
Q. Is a sale with them guaranteed in 30 days?
30 Day Sale specialists don't provide you with a guaranteed sale. However, they do provide you with the best possible chance of selling for full market value within a 30 day period.
Q. How do they do this?
1. Data driven agent selection (i.e. Identify the agents that actually have buyers for your property).
2. Precision pricing (i.e. Make sure the property's price positions it against the competition in such a way as to ensure buyers see it as correctly priced).
3. Aggressive marketing usually using multiple agents. (i.e. Incentivise agents to work harder and to get the best possible offers from their buyers).
Q. How much do they charge?
It's roughly the same price as selling via a traditional estate agent (and also on a no sale no fee basis).
Q. What happens at the end of the 30 day period if they're unable to sell the property?
After 30 days you are free to go elsewhere.
Q. If it's the same price as a sole agency, why would the different agencies be motivated to market my flat over their sole agency clients? As they would be competing against a lot of other agencies and therefore have a high chance of making no money from the sale, so wouldn't they prioritise their sole agency properties?
Estate agents are motivated in this arrangement by:
Keen sense of competition against their local rivals (think Man U vs. Man City if you are familiar with football). Agents love to "get on over" on their competitors.
They know that 30 Day Sale Specialists are a source of repeat business (where as private sellers are usually a "one and done" relationship).
They know that sellers' using 30 Day Sale Specialists are "serious sellers" that will have their ducks in a row and support through the tricky "conveyancing" portion of the transaction. As such, these sellers are more likely to actually complete on their sale and generate a fee for the agent (ergo – a more valuable proposition all round).
Q. Can you recommend reputable & effective 30-Day Sale specialists?
#4. Part Exchange (PX) with a new home builder
Part Exchange (PX) is only useful if you are buying a new-build property.
House builders only offer this scheme if you're 'trading up'.
Not all house builders offer part exchange.
Expect to be offered 95-100% of the home's market value.
#5. Change estate agent
Changing your estate agent is worth considering if you're out of contract.
Switching agents is definitely worth considering if you're currently using a cheap online/hybrid agent.
Often a change of agent can negate the need for a price reduction.
Offer the new agent a full fee (>1.5%+VAT) but negotiate a short contract (>4 weeks).
#6. Bring in a second estate agent (multi agency)
A second estate agent working to sell your home is worth considering if you're in contract (and your current agent agrees to this).
Multi agency (done right) makes traditional estate agents work harder.
Multiple agents increases the chance of getting the best price and selling your property fast.
Avoid fee arrangements where the agents share the fee regardless of who finds the buyer.
This is not for the inexperienced homeowner as agents can be hard to manage.
Expect fees to rise to 2.5%-3%+VAT.
#7. Reduce the 'asking price' of your home
Reduce the listing price of your home if you are unable to bring in a second agent or change from your current agent.
The less well suited your agent is for selling your type of property, the more you will need to reduce your homes asking price.
A cold housing market, dropping your home price may not guarantee a sale.
#8. Assisted house sale
Assisted home sales are worth considering if your property is proving hard to sell because its empty and needs work.
Assisted sale specialists will pay for (and manage) the refurbishment (and sale) of your home in return for a share of the sale profit.
Common Questions About A Fast Home Sale
Please do not take mention of any company below as an endorsement or recommendation.
Can I trust online reviews for 'Sell House Fast' companies?
Absolutely not!
Trusted companies that help you sell your house fast (at top market prices) can be hard to find.
Most quick buying businesses have fake reviews and even fake online testimonials.
Both can be easily bought online.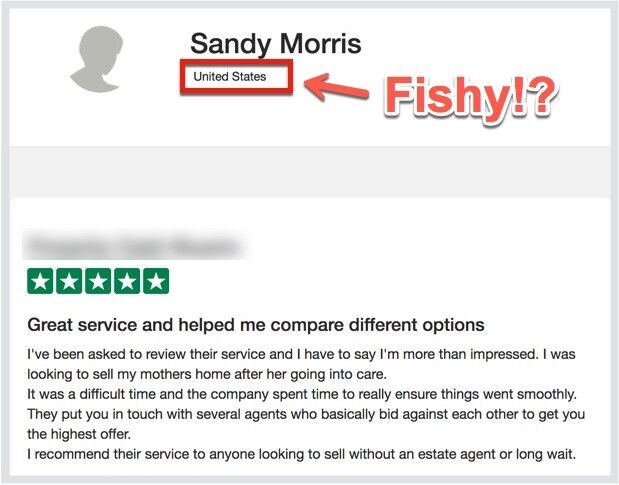 The review above is clearly bought and from a fake home seller as it doesn't not even originate from the UK.
Are instant cash offers or online quotes accurate?
Absolutely not!
Before a home offer (you can rely on) can be made, cash home buying companies will need to spend 3-5 days to asses and determine a realistic purchase price for your property on the open market.
Local estate agents will need to be interviewed and several other property market data sources will be analysed.
This is why 'initial offers' received over the phone or generated from an online calculator are not an accurate representation of the real value of a home. Making decisions about the value of a house based only on initial offers, with limited market research and data, is impossible.
Initial home offers are simply teaser rates.
These teaser rates are based on inaccurate figures to entice home sellers, get the conversation started and get a foot in the door.
Based on 15 years of real estate experience, here is some solid advice for home sellers that has proven itself to be true:
Whoever offers the most at the 'phoning around' stage usually pays the least when it comes to the 'handing over the cash' stage.
What is the National Association of Property Buyers (NAPB)?
The NAPB is a self interest trade body that represents a number of companies operating in the fast home sale sector (England, Wales & Northern Ireland).
Membership is made up of an array of companies:
The property buyer organisation contains a few excellent companies.
Members of the NAPB also include some of the worst companies in the industry.
Lynne, a recent home seller, looking for a reputable quick house buying company wrote to us expressing her concerns about industry regulations for these companies: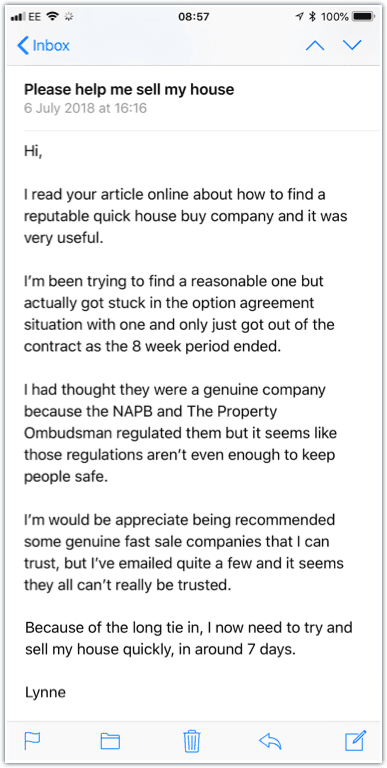 The mistake Lynne has made is thinking the National Association of Property Buyers (NAPB) and The Property Ombudsman (TPO) are regulators.
The Truth: The Quick House Sale industry is NOT regulated.
Any business that claims differently is either mistaken or trying to mislead you.
The only protection consumers have is a voluntary redress scheme (and code of practice / conduct) overseen by The Property Ombudsman.
Members of the NAPB must adhere to this code of conduct.
If this code is worth anything or provides any meaningful protection to home sellers, it has yet to be seen.
The code of conduct did nothing to protect Lynne.
In fact it seems to have done more harm than good, and only served to lower her guard by providing a thin veneer of credibility to a company that didn't deserve it.
Bottom Line: Do not take membership of the NAPB as a guarantee the company you're dealing with is reputable and will treat you fairly or sell your house quickly.
Who are the best fast cash property buyers?
The type of property you are selling and its location will determine the best options for a quick cash house buying company.
There are 100's of websites claiming to provide a guaranteed sell house fast for cash service and some even pay your solicitor fees.
Each of these fast home buying businesses claim to 'be the best', to 'pay the most', or 'be the safest'.
If you have never dealt with these fast cash companies before it is impossible to know which business to trust.
This is why TheAdvisory offers the following free help to homeowners who are confused trying to safely navigate the process of quick home sales:
Free help: Find out who are the best fast cash property buyers
Why take our advice?
TheAdvisory has helped over 30,000 house sellers identify reliable and trustworthy "we buy any home" type companies.
This is a free service that has generated us over 100 genuine (and verifiable) 5 star reviews posted on both Facebook and Google.
If you want to quickly (and safely) explore selling quickly to a cash property buying company, click the link above to get tested & trusted recommendations.
Should I use a fast homes sale company or sell at auction?
If you need a guaranteed sale, think very carefully before you choose auction over a reputable fast house buying company.
You only get one chance to get it right – Here's why:
The big problem with auctions (especially online auctions) is that your property is publicly advertised with a low guide price on Zoopla & Rightmove.
If your property does not generate much interest at that level, and is either withdrawn prior to auction or doesn't sell at auction, this failed attempt to sell (at a low price) will have been seen by most of the home-hunters active in your local market.
This will cause you problems with any future marketing of the property, and is highly likely to reduce your achievable price, speed of sale and interest levels.
A failed auction sale will effect cash offers from 'Sell House Quickly' Co's
Let's say you're on the market with a traditional estate agent at £200k and you lose your potential buyer (perhaps they couldn't get mortgage finance or their buyer pulled out).
In this scenario, fast home buying companies will be using a figure close to £200k as a starting point for calculating their offer.
If instead you go down the auction route with a guide price of £180k and you fail to sell, home buying firms will now be minded to use this lower figure as their starting point for calculating their offer.
Your failed auction attempt provides cash home buyers with fairly compelling evidence that your house is unlikely to achieve £200k on the open market from a buyer that can go the distance.
Prior to a failed auction attempt, that piece of compelling evidence wasn't there. They would have had to work it out for themselves:
They may well have previously been thinking £195k was an achievable selling price and so their offer would be 80% of £195k (approx. £156k).
Now, their offer will be 80% of £180k (approx. £144k and that's a best case scenario).
Bottom Line: If your property is not suitable for auction (and you need a guaranteed sale), be very clear that a failed auction attempt will have a negative impact on the price you could achieve from any companies that buy houses for cash.
Will I sell my house faster if I spend time getting it ready for sale?
If you spend a little time getting your home ready to sell, you'll be rewarded with a faster sale and a higher sale price.
Presentation is often the difference between:
a). The house that sits unsold until you're forced to reduce its asking price.
b). The house that sells almost immediately for the full price.
It really is that simple.
Pro Tip: If you want to sell house fast, it needs to present just as well as (if not better than) the competition and remain competitively priced.
Here's the winning formula for a fast sale:
Competitive asking price + Good presentation = A quick property sale
What sells a house fast?
The old saying, "the customer is always right" is worth bearing in mind when getting ready to sell.
The customers are your prospective buyers and what they all want is this:
A tidy, well-ordered house, filled with light, space and storage
What is the fair market value of my house?
Fair market value (FMV) of a property is the price a willing buyer would pay (subject to securing finance).
Fair market value is NOT:
Your Zoopla valuation estimate.
What you need to sell the property for.
What you bought the property for + the cost of any improvement projects.
What any prospective buyers (that have property to sell) have offered you.
What an agent gives you as their opinion of value.
An RICS valuation (although if the only interest in your property is from a buyer that requires a mortgage, then to all intensive purposes this IS fair market value).
At the end of the day, until a property sale completes, all attempts to define fair market value are just guesses.
Hopefully the agent advising you is making a good guess based on relevant facts and evidence in the marketplace.
Their guess is not guaranteed to be accurate (or truthful) because 'deliberate overpricing to win the instruction' is rife in the UK.
Read: How much is my house REALLY worth?
Sell Your House Quickly - Related Property Services
Sell Your Home Fast - Seller Resources