The truth about:


Online Estate Agents
Will they save you (or cost you) £1,000's?
Keep reading to discover….
Which online agents are most popular
Do internet agents get you the best result
And lots more…
---
---
Frequently Asked Questions
✅ Are online estate agents any good for selling?
Because everyone starts looking for a property using Right Move and Zoopla it's tempting to think there's no point using a high street estate agent. But...What most people don't realise is that a whopping 63% of buyers don't buy the property they initially enquired about - They buy a property introduced to them by an estate agent. That explains why the best online estate agents only sell roughly 50% of the properties they take on.
✅ What is the current market share of online estate agents?
Only 3-4% of all house sellers currently use online estate agents (including Purplebricks).
✅ Should I use an online estate agent?
The best online estate agents are only as good as average high street estate agents. The best high street estate agents will get you a superior result.
What do you really want from your house sale?
When its time to sell…
…No one wants to make a schoolboy error, leave money on the table and end up having sleepless nights or regrets.
Most people want to sell for the best possible price, and they want it without having to go through too much stress.
We imagine you want the same?
So how do you make sure you get what you want?
It's simple…
…Just follow the time honoured (and proven) strategy for quickly gaining solid wisdom:
Study how the 'best of the best' do thing. Then copy them!
For example, if you want to get good at investing in the stock market, then it's wise to study billionaires like; Warren Buffet, George Soros, John Bogle and Peter Lynch.
And if you want to successfully sell your house for a great price with the least amount of stress, you'd be wise to study serial house sellers like:
House Builders offering assisted sales or part exchange
Corporate asset managers
Corporate relocation consultants
Institutional property investors
Property traders and 'Quick Sale' companies
Banks disposing of repossessed properties
The above are all individuals and/or businesses with reason to sell residential property on a regular basis.
It's their job to master the art of selling houses and consistently achieve the maximum possible price (in the shortest possible time).
They are what we call 'Pro' property sellers.
How do the professionals choose to sell?
Interestingly, we don't know of any that use cheap online estate agents.
Instead, they choose to put their sales in the hands of local, 'no sale no fee' high street estate agents.
Why do they do that? What do 'Pro' house sellers know that we don't?
Keep reading to find out…
Revealed! Discover the FREE tool 1,000's of SMART home sellers like YOU are raving about...
All estate agents claim to be the "best", but how do you know for sure which one is telling you the truth?
It's worth doing your research because the wrong estate agent is likely to undersell your home by £10,000's.
That's why we've teamed up with GetAgent (the estate agency performance data specialists), to help you take the stress and guesswork out of choosing your estate agent.
Find out which local agents REALLY are best at selling property like yours.
Don't guess. Know…
Should you use an 'internet only' estate agent?
At first glance it certainly looks like a shrewd move.
It's almost a no-brainer if in the past you've used high street estate agents and been left less than impressed.
Now, we don't know what your experiences have been, but here are some things we've learned during our years in the property business:
We don't know many house-hunters that didn't start their search on either; Rightmove, Zoopla, PrimeLocation or Onthemarket.
We don't know of any estate agents that have managed to talk someone into buying a home they didn't want.
We don't know of any house seller that doesn't know how to find out what local houses have historically sold for by checking Zoopla (or one of the other websites that displays Land Registry recorded sold prices).
We don't know any house seller that doesn't believe their house will sell (eventually) if priced correctly and listed on Rightmove.
We don't know of any high street estate agent that won't come round your house and give you a free valuation / market appraisal.
Given everything above:
Why on earth would any intelligent person choose to use a high street estate agent that charges commission of 0.75%-1.5%+VAT on a no sale no fee basis?
Why would they do that when an online (or hybrid) estate agent will list their property on all the major property portals for a fraction of the cost?
These are two very good questions to ask. They're questions we've asked ourselves (and grappled with) repeatedly for the last few years.
What is my angle here?
Yes, I'm the founder of an independent consumer advice group for house sellers, so naturally I'm interested in the whole online vs. high street estate agency debate.
However, professionally I manage a team which buy and sell houses (across the UK) on behalf of corporate relocation companies, and homebuilders offering part exchange schemes to prospective purchasers.
I'm one of these 'Pro' house sellers mentioned earlier and I have a confession to make:
I always use local high street estate agents!
But:
Is this the right thing to be doing in this digital age?
Am I flushing money down the drain unnecessarily?
It would be crass to give exact figures but let me say this; what I pay out annually in estate agency fees is not insignificant.
As such, I'm not just interested (from a theoretical point of view) in the potential cost saving these services claim to provide.
I'm interested because (if true) they could save me a lot of money.
You and I are in the same boat
Yes, I 'do' property professionally, but if you're selling your home then ultimately you and I are the same…
…Fundamentally we're both house sellers and I imagine we both have the same goal?
Here's mine:
I don't just want to sell the house – I want to sell it for the best possible price with the least amount of stress and hassle.
Estate agent fees are NOT my primary concern
I like getting ripped-off about as much as I like getting punched in the face.
However, estate agent fees are not my primary concern.
Instead, I focus on my 'walkaway figure':
Walkaway figure = Amount of money received from a sale AFTER the cost of selling has been deducted.
That's my real focus, and I imagine after a moment to reflect, it's probably yours too?
After all, you're not winning if you make a saving of £1,000 on estate agency fees, only to then lose £2,000 on your sale price.
The most important question you can ask
All this leads us to the key question all 'Pro' house sellers ask when it comes to selecting which estate agent to use:
Which estate agent will get me the best 'walkaway figure' from the sale of this property?
Given everything we've discussed so far (and especially so if you've sold before and found estate agents to be less than dynamic), I would completely understand if your thought process went a little like this:
All house buyers start their search online.
Internet only and high street agents will all advertise my house online.
Therefore, I should get the same result whoever I use.
But internet only agents are cheaper than high street agents.
Therefore, given they'll save me money; it must follow they'll get me the best 'walkaway figure' too.
That is all 100% logical thinking…
…And I used to think the same way!
But, what seems logical at first gets called into question when you read things like this:
Example A: 'Change agent and property sells'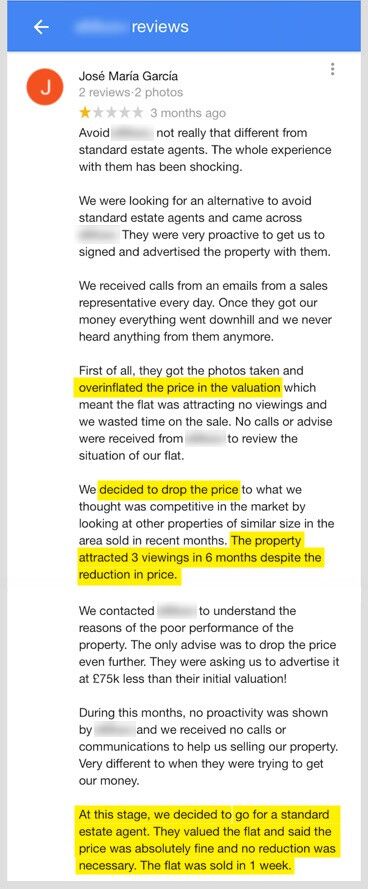 Key takeaway points:
Initially the property was overvalued by internet estate agent.
House seller reduces the price, which generates a pitiful 3 viewings over 6 months.
House seller switches to a high street agent but does not change the price.
High street agent sells (in one week) a property that was previously failing to sell (for 6 months) with a internet estate agent.
Example B: 'Just an online advert'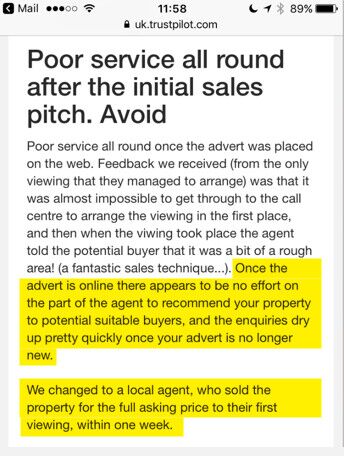 Key takeaway points:
Hybrid agent posts property online and waits for the phone to ring.
This does not generate a sale.
House seller changes to local high street agent.
High street agent sells the property for full asking price (in one week).
Example C: 'Different agent = different result'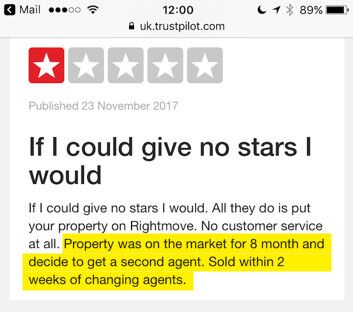 Key takeaway points:
Hybrid estate agent has the property for 8 months but fails to sell it.
House seller changes agent and the property sells within 2 weeks.
Example D: 'More viewing with a local agent'

Key takeaway points:
Hybrid agent generated just 3 viewings in 3 months (in a hot market) but failed to sell the property.
House seller changes to a local agent that generates 8 viewings in 1 week and sells the property.
Example E: 'Reduce the price is all they can suggest'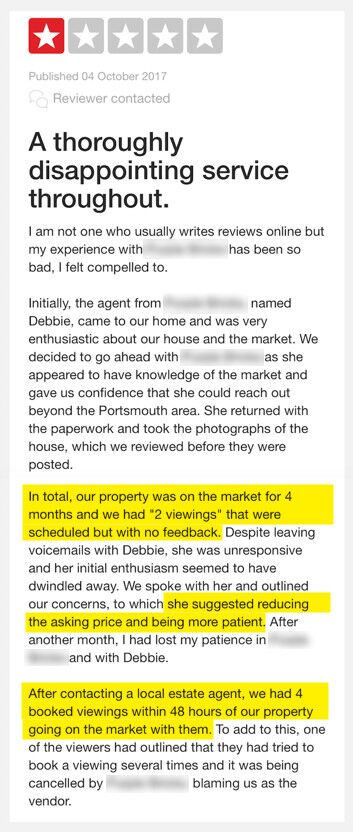 Key takeaway points:
Hybrid agent generates 2 viewings in 4 months but fails to sell the property.
Hybrid agent's only suggestion is to reduce the price and exercise patience.
House seller changes to a local agent that generates 4 viewings in 48 hours.
These examples point to something all house sellers need to know
Did you spot the theme running through those five examples?
The internet only estate agents did not get the same result as the high street estate agents even though:
Everyone was on Rightmove.
Prices stayed the same when changing agent (as far as I can tell).
The only factor that made a difference to the outcome of each sale was the choice of agency.
Interesting isn't it? Contrary to what we previously thought to be true:
Doesn't this show that selling for the best possible price (in the shortest possible time) might not just be a matter of getting the property up on Rightmove?
Doesn't this show that the estate agency you choose may well impact the time it takes you to sell and the price you achieve?
Doesn't this cast doubt over claims made by online / hybrid estate agents that they provide the same service and achieve the same results as high street estate agents (just at a fraction of the cost)?
Doesn't this shed new light on what we previously knew about selling houses?..
…Maybe. Maybe not.
Perhaps the examples above were just freak / isolated occurrences? Then again, perhaps they point to a bigger issue.
Failing to sell is an issue, but it's not the BIGGEST issue
There is no doubt, it is possible to sell a home through services that just list your property on the major property portals and wait for the phone to ring.
But there's also a fairly high chance they fail to sell your home.
There are no definitive figures out there, but the following independent analysis conducted by Jefferies (investment bankers) estimates the following: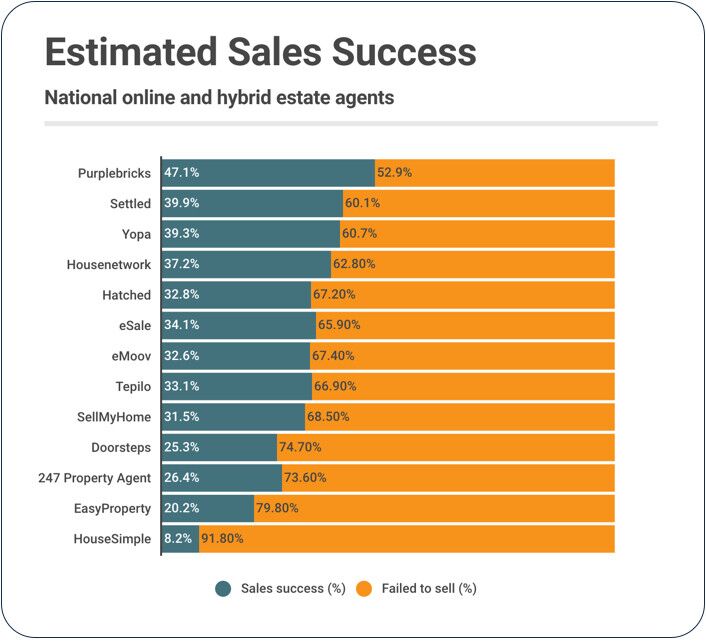 This is the BIGGEST issue
'Selling' & 'selling for the best possible price' are two totally different things.

It's true that sometimes selling can be easy, but what's even easier is to undersell your home and leave £1,000's on the table.
So, the really important question to ponder is this:
If you successfully sell through an internet only agent, will you leave a lot of money on the table?

…Will you be stepping over the pounds to pick up the pennies?

…..Are you missing out on achieving a higher 'walkaway figure' from the sale of your primary asset?

…….Are you actually LOSING money?
We'll tell you what we think (and why) but first, here's a quick story about my uncle Barry.
It's worth reading because it highlights some important truths about what good estate agents do, and how the property market really works.
It will help you get a better result from your sale.
Proactive local estate agents get you more - Much more!
Our research shows the best local estate agents will get you a 5% higher sale price that the best online or hybrid estate agents.
Don't pick up the pennies only to step over the pounds by being seduced by the cheap fees of the "online only" agents.
Find the best estate agent for you by reviewing how successful your local estate agents are at selling homes like yours:
Moving Home: Uncle Barry's story
Uncle Barry used to live in a lovely big 4 bed detached house in North London.
But after the kids left home and he and my aunt Gene had spent a few years rattling around inside it, they decided to move into central London.
They love going to the theatre, galleries and restaurants, and given they're in their late 70's, driving 45m-1hr to get into town was becoming less and less appealing.
So they sold up and rented a beautiful flat (on the border of Regents Park and Marylebone) where they could hole up and plan their next move.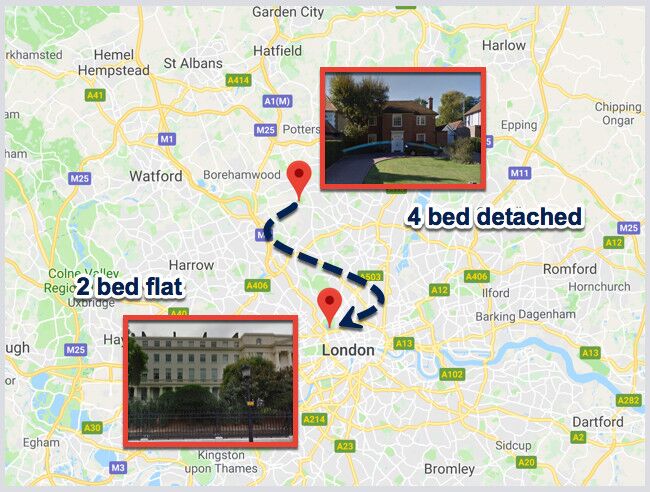 New lease of life
Let me tell you, moving into town (and getting closer to the action) gave my uncle and aunt a new lease of life.
Gene could be in Regents Park in seconds and Barry could meet his mates for lunch on the Marylebone High Street anytime he liked.
They were happy – Invigorated even – Everything was great.
Except the monthly rent was punitive, and aunt Gene was feeling less and less comfortable renting.
She needed the security of owning the roof over their head…
…They had to now focus on finding a flat to buy.
The search begins
So, the search began starting the daily ritual of checking Rightmove, Zoopla and Onthemarket for new property.
They even interviewed two property-buying agents to help with their search, but ultimately felt they could do it themselves given their assumption everything would be advertised on the portals.
They had a very healthy budget of £2.2m-£2.5m and their home search criteria looked like this:
NEEDS:
2 beds (1 en-suite)
Portered block
Secure parking for 1 car
Close to amenities
WANTS:
3 beds (one master bedroom / one to act as an office and one to accommodate visiting grandchildren etc.)
Modern building
To be within walking distance of Marylebone High Street and Regents Park
Their focused 'area of search'
Barry and Gene had fallen so in love with the location of their rented flat; they desperately wanted to buy it (or something similar).
This meant their property search was focused on a very small area, and they were not willing to compromise – they simply didn't want to live anywhere else!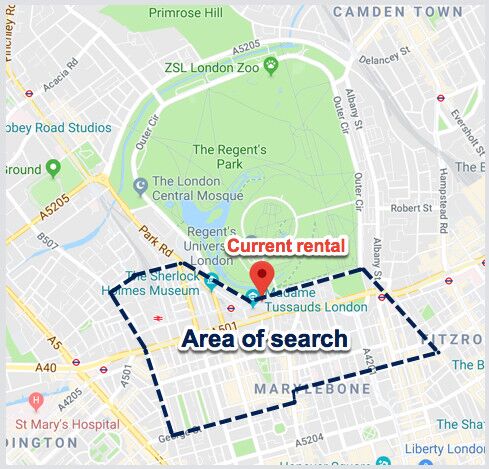 They spent hours with estate agents and viewed almost everything on the market (in their area of search) that was close to their budget.
Nothing ticked all the boxes on their 'WANTS' list.
Bottom line, £2.5m is a lot of money but it wasn't enough to get them what they wanted in their preferred area of search.
This went on for months. Meanwhile, auntie Gene's anxiety over renting intensified to such a degree that it even started to put a strain on their relationship.
Thankfully, things were about to change.
Someone had been paying attention
There was one estate agent that had taken them to see a number of properties, and managed to build up a bit of rapport (and trust) with my uncle.
He understood what uncle Barry wanted and needed, and was also aware of how pressing their need was to get out of rental and actually buy somewhere.
He called uncle Barry one day to let him know about a flat on the North side of Regents Park that he'd just been instructed on (the previous estate agent had been fired).
Uncle Barry had seen the property on Rightmove but dismissed it out of hand because of the location.
The agent insisted that it was worth his time to go see it.
He acknowledged it wasn't exactly where uncle Barry wanted to be but it did have everything uncle Barry needed out of a flat (and was in budget).
He also did a clever thing; he asked uncle Barry whether he was aware of the bus stop directly outside the flat that takes you to the top of Marylebone High Street in exactly 11 mins?
It's such a stupid little thing but none-the-less uncle Barry didn't know this – it was new information…
…And because of it, uncle Barry agreed to view the flat.
Lets look at what just happened there
The key takeaway from the above story it this – The agent was able to overcome uncle Barry's objection to this property.
He did this by opening uncle Barry's eyes to how making a minor compromise (a short bus trip instead of a short walk) would allow him to have his cake and eat it.
And so:
This new information (supplied by the estate agent) +
The agent's insistence the flat really was worth viewing +
The modicum of trust and rapport the agent had previously built with uncle Barry on other viewings causing uncle Barry to take the agent seriously +
Aunt Gene's anxiety levels requiring a purchase to happen ASAP =
Barry and Gene get on a bus and go look at a flat they had previously dismissed out of hand.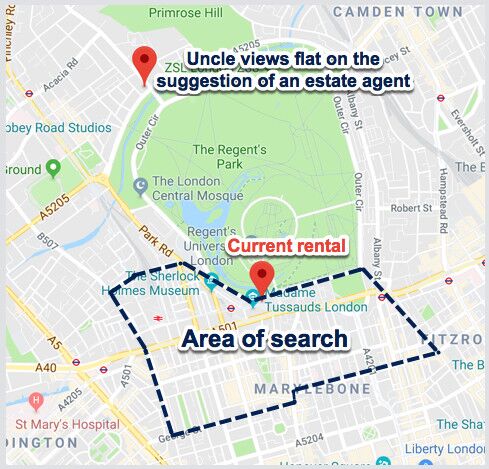 Can you guess what happened next?
Surprise surprise…
…Barry and Gene walk into the flat (it was on the 4th floor), head straight to the balcony that looks over Regents Park, take in the magnificent view and the rest is history.
Portered block
Secure underground parking
3 bedroom (one en-suite)
Quick access to Marylebone high street
They can afford it
Aunt Gene is happy!
Key takeaways
Uncle Barry had seen this property on Rightmove but initially dismissed it.
The estate agent did not sell uncle a property he didn't want; he sold my uncle a viewing.
My uncle and aunt had spent many hours searching Rightmove for their dream property but at the end of the day they ended up making a compromise and bought something introduced to them by an estate agent.
The seller of this flat must have been delighted, their agent managed to bring about a sale even though Rightmove (and a previous estate agent) had failed to generate any buyers willing to make a firm offer.
Ultimately, this transaction came about because an estate agent overcame a buyer's objections to a particular property and encouraged a viewing to happen.
Variations on this theme are happening in every market (and at every price point) right across the UK.
Interestingly, talk to uncle Barry now and you'd never know the estate agent had played a role – Uncle Barry found the flat (it was all his idea). There is no way his pride would allow him to fully acknowledge that an 'estate agent' influenced his decision to buy this property…
…I imagine uncle Barry is not alone here.
Proper estate agents make deals happen
Proper estate agents take note of what buyers want, ask questions and read between the lines to understand what buyers need.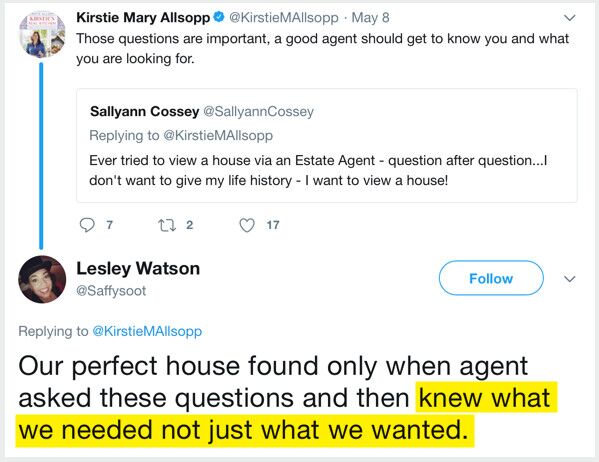 The 'art' of estate agency
Proper estate agents build rapport, trust and an understanding of what buyers need through the applicant registration process and through accompanied viewings.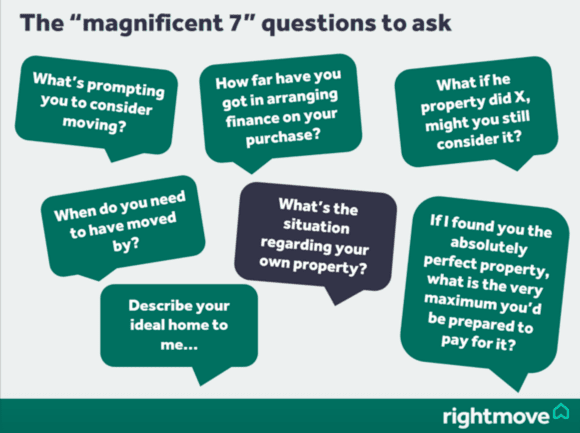 Proper estate agents try to broaden buyers' search criteria by listening to objections, overcoming them and suggesting properties that meet their 'needs' but not necessarily all their 'wants'.
Proper estate agents don't sell houses – they sell viewings!
Find the best estate agent for you
Review how successful your local estate agents are at selling homes like yours:
Important lessons for serious sellers
Just because your property is on Rightmove, Zoopla, Primelocation or Onthemarket etc…
…It does not follow that all the buyers (that could be perfectly happy living in it) will take action and go view it.
Some will and some won't.
Some need a push like uncle Barry: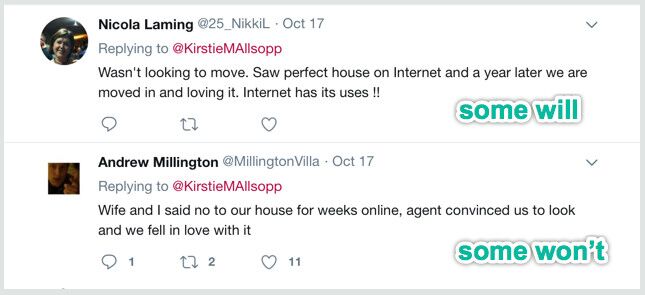 I'm a greedy seller (and so should you be)
When I sell a property, I want to reach both types of buyers:
The ones that will go to see it under their own steam and the ones that won't.
One of the down sides of a website like Rightmove (and by default, internet only listing agents too), is that they don't push…
…Instead they encourage superficial snap judgments to be made, based purely on looking at a couple of photos.
And that's not good.
Houses may well sell themselves, but only once they've been experienced in the flesh.
We believe that to make a truly informed decision about a property, you have to:
Visit the neighbourhood.
Walk up to the front door.
Experience firsthand the space, light, sounds and smells.
Choosing a new home is a choice that requires all your senses to have cast their vote.
Important points:
In this digital age of diminishing attention spans, it's getting harder and harder to get bums off seats to give all the senses their chance to vote.
This is where high street estate agents have the unique ability to bring value to the house hunting (and selling) process.
Of course, not all high street estate agents have the skill, wit or motivation to deliver this value, but many do and are worth the money.
Do property portals encourage lazy estate agency?
Portals make it possible to sit at home all day looking at property porn.
But one of the side effects is that it's made many (but not all) high street estate agents lazy:
There is a large proportion of agents that do nothing more than just post your property on the portals and wait for the phone to ring. And even when it does, or they get an email, not all will bother to ring back.
Paying 0.75%-1.5% +VAT for that (essentially just a Rightmove listing service) is poor value for money when any number of cheap assisted FSBO (for sale by owner) services will do the same for less than £1,000.
Bottom line: Proper estate agents do more than just whack up a Rightmove advert and wait for the phone to ring.
Proper estate agents perform two additional vital tasks – the importance (and monetary value) of which is hard to underestimate:
They use every technique in the book to encourage house hunters to get off the sofa and view properties.
They then encourage house hunters to make offers.
Also, the real work starts when an offer has been accepted so having an experienced estate agent guide (and trouble shoot through) the sales progression process increases your chances of actually moving home.
Key Takeaways
#1. Not all buyers know exactly what they want.
There are no definitive studies in this area however, Graham Bell, the London MD of Countrywide (the UK's largest full service residential estate agency and property services provider) recently shared in the trade press the following statistic:
63% of buyers don't buy the property they initially enquired about.
He's highlighting this phenomenon: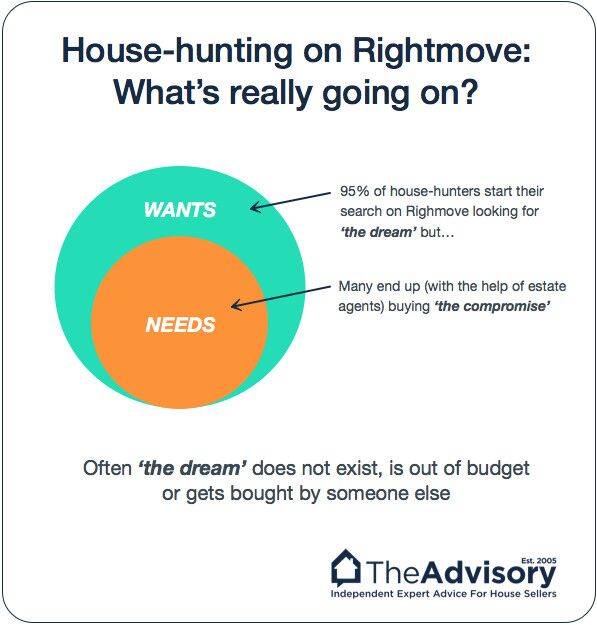 #2. Rightmove is very effective at connecting buyers to estate agents.
However, it's nowhere near as effective (as the public think) at connecting buyers to property.
The home hunting process is nuanced, often messy and nowhere near as clear-cut as say, using Amazon to find and buy a book you're after.
Proper high street estate agents can generate interest in your property over and above the direct interest generated from your internet advert.
Here are results from a study of our own property sales: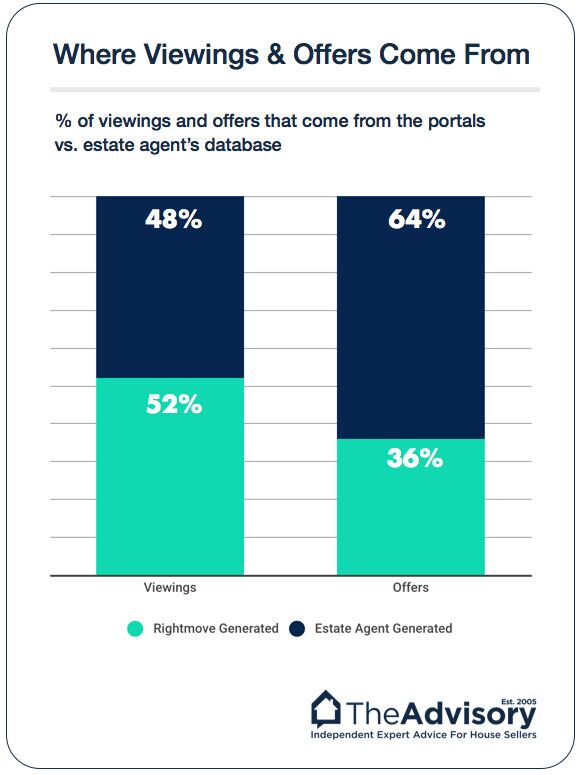 Our study revealed that a well chosen high street estate agent can:
Increase the number of viewing by 48%
Increase the number of offers by 64%
But you only need one buyer to make a sale!?
This is true. But, it takes two or more to spark a bidding war…
…And competitive bidding is the undisputed best way to flush out the maximum bid from a buyer.
This is important stuff if you want the best price
If you want to sell for the absolute best price (in the shortest time) here's a key nugget of wisdom:
To get the best price you need to get as many potential buyers though your door as quickly as possible.
More is more, when it comes to selling property and here's why:
More viewings = more offers.
Offers beget offers because buyers take comfort knowing someone else has also decided the property is a good buy (it's basic social proof at work).
Your negotiating position (as a seller) is strongest during the first few weeks of your sale (you're bolder and under less pressure).
Your estate agent's ability (and resolve) to defend your price (and push buyers to increase their offers) is greatest during the first few weeks of your sale.
Multiple offers gives you the opportunity to choose your buyer based on their ability to see the transaction through to the finish line (within an acceptable timeframe).
Pro Tip: All other things being equal:

The estate agent that can get the most buyers through your door (quickly), is the agent that has the greatest chance of securing you the best price (or the best buyer).
Will the right estate agent get you a higher sale price?
We've just seen the uplift in viewings and offers the right estate agent can bring, over and above what comes direct from a Rightmove advert.
But does this translate into a higher sale price?…
…You bet it does!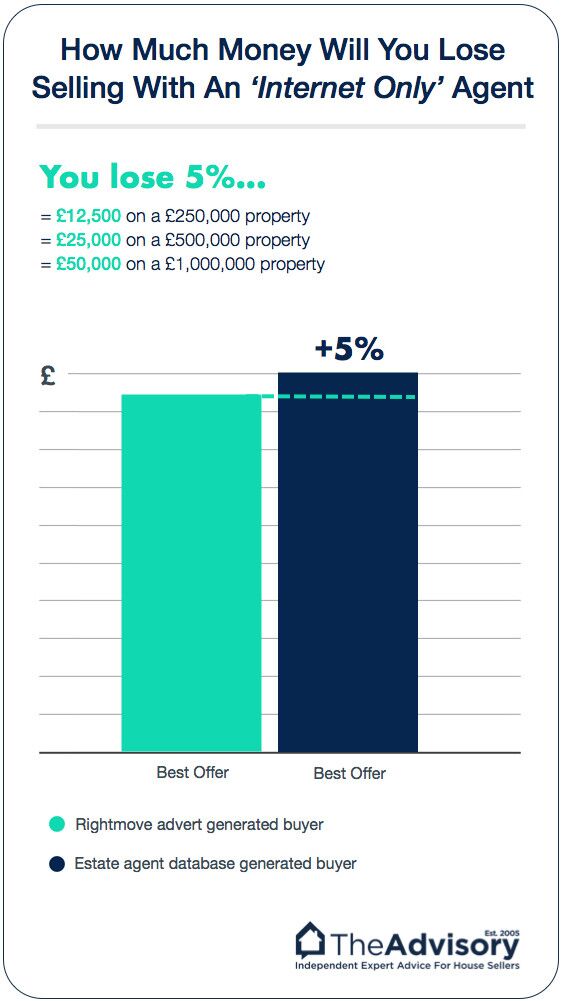 Key takeaway
On average, buyers from the estate agent's database offered 5% more than the buyers generated from the Rightmove advert.
The implications are worrying…
…Homeowners that sell through cheap 'internet only' estate agents are potentially underselling their homes and losing out on a lot of money:
£12,500 loss on a £250k property
£25,000 loss on a £500k property
£50,000 loss on a £1m property
More: Online vs. High Street – Who gets you the better price?
Which estate agent will get you the highest price?
Our research shows the best local estate agents will get you a 5% higher sale price that the best online or hybrid estate agents.
Don't pick up the pennies only to step over the pounds by being seduced by the cheap fees of the "online only" agents.
Find the best estate agent for you by reviewing how successful your local estate agents are at selling homes like yours:
Summary and conclusions
Much of the public believe selling a house is simply a matter of 'getting it on Rightmove' and internet only estate agents provide a cheap(ish) way to do this.
There is the temptation to take the valuation advice of a local high street estate agent, and then list with a cheap online estate agent thinking you'll achieve the same selling price but having paid a lower fee – giving you a 'net' gain on the amount of money you 'walkaway' with.
What is often misunderstood is that this quite reasonable (and at first glance quite canny) strategy is likely to result in the exact opposite – a 'net' loss and lower 'walkaway' figure.
The latest research
It's true that it only takes one buyer to make a sale but it takes 2 or more to spark a competitive bidding situation, or give you (and your estate agent) the confidence to negotiate aggressively with interested parties.
Our research shows using the right local high street estate agent, is highly likely to generate more interest in your property, compared to an 'internet only' estate agent advertising your home on Rightmove (at the same price).
More interest => Greater chance of competitive biding => Greater chance of achieve a better price, or a better buyer (i.e. one who can complete on the transaction within a more acceptable timeframe).
But how is this possible?…
…Doesn't everyone start their search on Rightmove?
Yes they do, but not everyone ends their search on Rightmove, and that's the crucial piece of the puzzle experienced house sellers understand and appreciate.
It's not all about Rightmove
Rightmove does an incredible job of introducing house buyers to estate agents. But it is less effective at connecting house buyers to properties.
You may well be the type of person that knows exactly where they want to live, and the type of property they want to live in.
You may even have the budget to purchase a house that ticks every box on your wish list, and so all you need do is keep tabs on Rightmove and wait for that house to become available…
…Not everyone is like you and as a seller in pursuit of the best possible price, that's worth remembering.
The truth about buyers
It's unfashionable to say this, but not all house buyers know what they want, or are realistic about what they can afford.
In reality, many house buyers are searching the dream but end up buying the compromise because often the dream isn't affordable or doesn't exist.
These are the buyers hands-on high street estate agents excel at helping to buy a home.
The art of estate agency
Good high street estate agents don't 'sell houses'… They 'sell viewings'!
They encourage homebuyers to view (and offer on) properties they may have discounted (or not even considered) while browsing Rightmove.
They proactively call people and encourage them to experience a property in the flesh.
They get bums of seats which in this increasingly digital age (where everything is done from the comfort of a couch) is an incredibly value service.
It's not 'more for less' – It's 'less for less'
Internet only estate agency services primarily just expose your property to homebuyers that proactively request to view it after seeing it advertised online.
This type of marketing service is 'reactive'.
Without the internet, these agents would not generate any interest in your property (over and above what their For Sale board generates).
On the other hand…
…Good high street estate agents don't really need Rightmove or Zoopla to sell you home.
These websites help and serve as an additional tool in the agent's marketing toolbox but they're not the be all and end all as it is with internet only estate agents.
Good estate agents can sell your house with just a phone and their knowledge of the buyers on their database.
There's irony in here somewhere
We often hear the following complaint from frustrated house sellers complaining about their agent:
"They did nothing more than just stick the property up on Rightmove and waited for the phone to ring!"
Well folks, that's the very definition of an 'internet only' estate agency.
Compared to proper full-service estate agency it is 'less for less', a step back, not a step forward towards a more effective way to sell your home.
They do not cater effectively to the 1,000's of house buyers that need a bit of a push to view (and so experience properly) your property…
…These are the overlooked buyers of a digital age!
Don't overlook them. Have them firmly in mind and look for the estate agent that will be most effective at getting them to view your home.
That is how you will give yourself the greatest chance of securing the e highest 'walkaway' figure from your sale.
Final thoughts
Given most internet only estate agents get paid regardless of whether they manage to sell your property, many in the industry are pushing for more transparency over the publication of their true sales success rates.
Here's an interesting comment from an estate agent in one of the trade publications: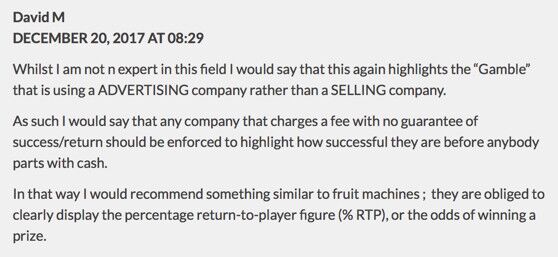 What do you think?
Should estate agents (that charge upfront fees or fees payable regardless of a successful sale) be required to publish their success rates, so the public can access the risk of losing their money without achieving a sale?
We'd love to know what you think? Would you trust the sale of your home to an online estate agent?
Email us at: info (@) theadvisory.co.uk
Online Estate Agency: An industry coming apart at the seams
Online estate agents bragged they would have 15-20% of the market by now.
In reality, they only have 5%.
What's more, one of the 'shoutiest" companies has failed financially and has appointed administrators.
In the wake of this news, Adam Day (an online estate agency pioneer) reveals the flaws in the online only model and brands "pay upfront" agencies a scam.
We agree!
Find the best local estate agent for your property
We've teamed up with estate agent comparison service GetAgent to provide you with a way to find the best high-street estate agents, based on an impartial data-driven analysis of their past performance.
Find the best estate agents for you:
Related guides