Definitive guide:


When is the Best Time to Sell Your House?
Keep reading to discover:
The best (& worst) months to sell your home.
The different rules for different property types.
And lots more…
Key takeaways:
All other things being equal, 'when' you put your house on the market will impact how long it takes to find a buyer and the price you achieve.
If you have the luxury of choosing when to sell, this guide will show you the best and worst times of year to sell a house.
Follow the advice and you can be confident you're selling at a time that gives you the greatest chance of achieving the best price, in the shortest time.
---
---
Frequently Asked Questions
✅ What is the best day to list my house?
Anytime between Monday (5am) - Tuesday (9pm).
✅ When is the best month to sell a house quickly?
March.
✅ What are the worst months to sell a house quickly?
August & December.
When do homes sell quickly?
Spring is the traditionally said to be the best time to sell your house.
But don't take this as gospel because there are a number of factors at play, such as the type of property being sold.
That said, the conventional wisdom on when the market is most active and favourable for selling looks like this: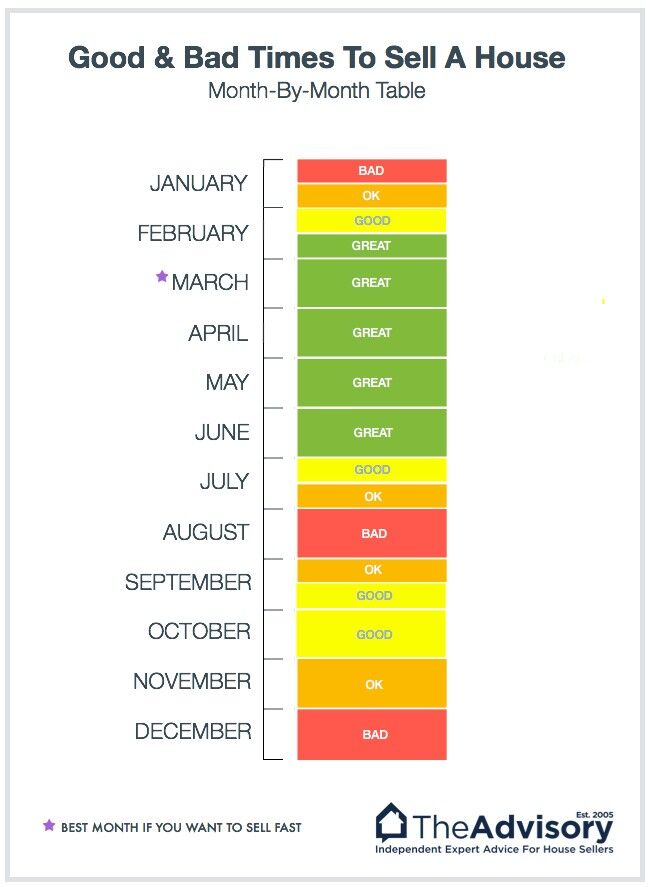 You'll notice we've highlighted March as the best time to launch your sale if you need to sell your house fast.
More on that in a bit.
First this…
Is right now a good time to sell your house?
Ask your 'average' estate agent that and they're likely to say:
This is totally understandable. Agents want your business now, not later!
It's a mistake to expect them all to give an answer that's 100% accurate and in your best interests.
A 'better than average' estate agent should give you advice tailored to the individual variations of your local market (and your property type).
More: Everything you need to know about estate agents
When is the best time to put a house on the market?
Here's an interesting analysis we carried out with the help of Rightmove data.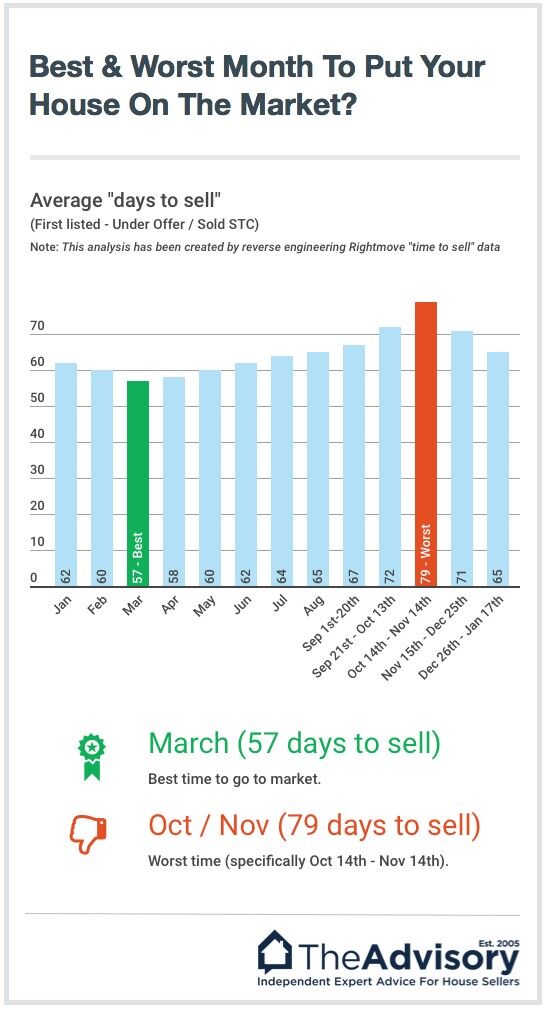 Best month to sell your house?
Conventional wisdom says the best months are:
April / May
September / October
However, looking at our analysis of Rightmove 'time to sell' data, we see properties that sell fastest come to market around:
March = 57 days (to go under offer)
This is important to note because the less time you're on the market, the better the price you're likely to get. See: How much is your house worth for more on the relationship between time on market and eventual sale price.
Worst month to sell your house?
Conventional wisdom says the worst months are:
However, looking at our analysis of Rightmove 'time to sell' data, we see properties that take the longest to sell comes to market around:
October 15th- November 15th = 79 days (to go under offer)
The role of supply and demand
Almost everyone agrees:
The best time to sell is when there are lots of buyers actively looking to buy
However, as with all products services or commodities, to get the very best price, you not just need high levels of 'demand'…
…You also need low levels of 'supply'.
So, when it comes to selling houses, this means:
The best time to sell is when there are lots of buyers actively looking to buy + Few competing sellers looking to sell
It's all because:
Competition between buyers over available properties has a positive effect on your achievable sale price.
Competition forces out the best offers.
The more buyers there are and the fewer properties there are for sale, the more intense the environment of competition.
Supply levels (how to get a grip)
To get a general feel for supply levels of properties, the NAEA produce a monthly housing report (at a National level).
That's always interesting but really you need a more detailed view for it to be of any practical use.
To get it, perform a search on Rightmove as if you were a buyer looking to buy a property like yours.
You'll quickly see if there are lots of competing properties currently for sale in the market (i.e. high levels of supply).
Demand levels (how to get a grip)
Buyer demand levels wax and wane throughout the course of the year.
They follow a pretty predictable pattern that this guide will walk you though.
For bonus points, we recommend you use PropCast™ to get a laser-focused view of current buyer demand levels in your postcode (and for your individual property).
Action: Check your PropCast™ to predict buyer demand levels for your property
Different property types sell best at different times of year
If you want the best price (in the shortest amount of time) it's wise to come to market when the maximum numbers of buyers are actively looking for property like yours.
Naturally, different types of property attract different types of buyers.
Lets take a closer look:
1 & 2 bed flats & terraces
Your Target Buyer: First time buyers & young couples
Best Time To Sell: January, February & September
These buyers are often prompted by one last Christmas at home being one too many.
They are known to start home hunting in earnest straight after New Year.
They are also back in the market after Summer holidays with hopes of getting in to their new home in time for Christmas.
3 & 4 bed family homes
Your Target Buyer: Second steppers planning to have (or already with) kids
Best Time To Sell: Outside of school holidays
Christmas holiday: 19th Dec ('17) – 5th Jan ('18)
February half term: 12th Feb – 23th Feb
Easter holiday: 1st Apr – 13thApr
May half term: 28th May – 3rd Jun
Summer holiday: 13th Jul –6th Sep
Autumn half term: 19th Oct – 31th Oct
Christmas holiday – 21st Dec ('17) – 7th Jan ('18)
Holiday dates are highlighted below (avoid coming to market at this time):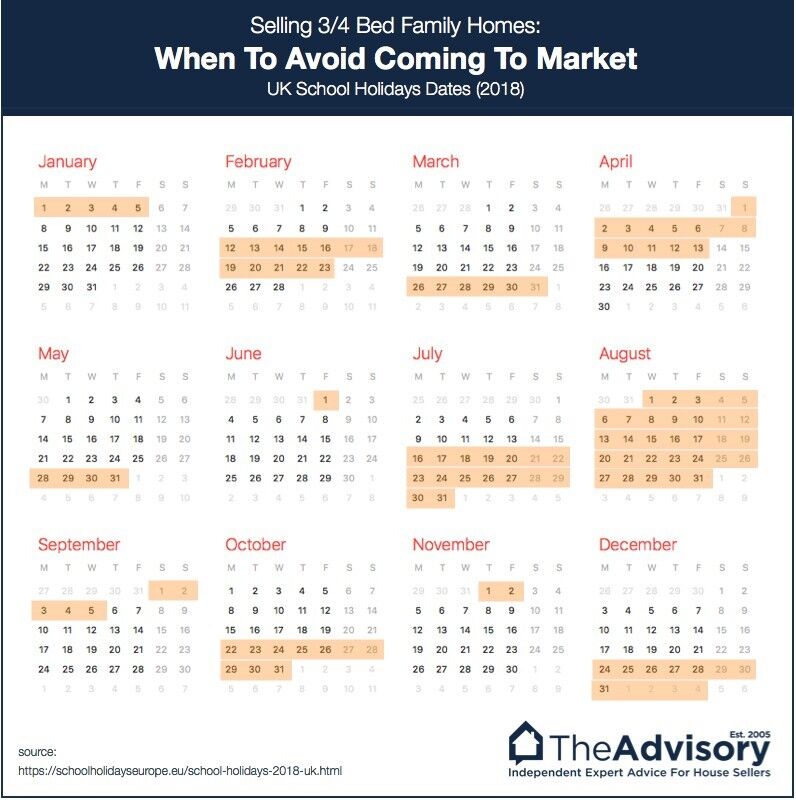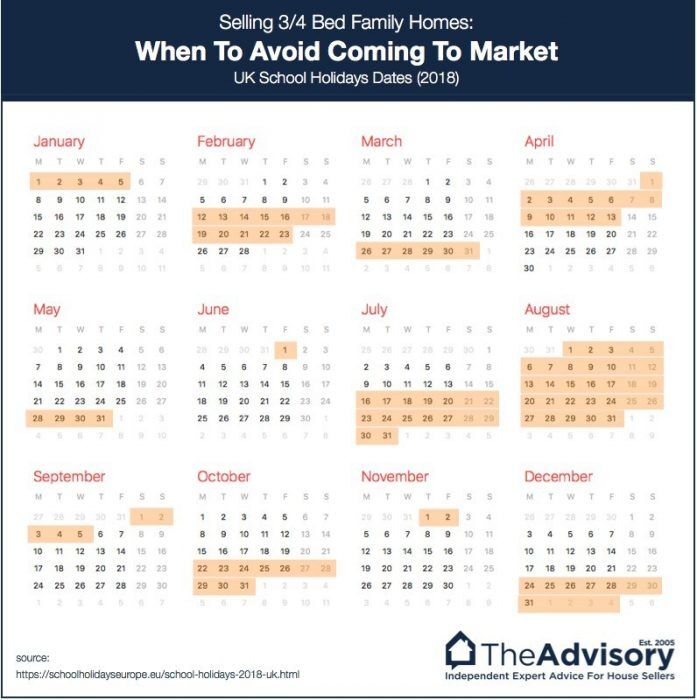 Stay up-to-date: Check your local area school term & holiday dates
Bungalow & retirement homes
Your Target Buyer: Elderly down-sizers
Best Time To Sell: During warm months (June – September)
Avoid coming to market between the end of Summer and the beginning of Spring.
Understanding the annual house selling cycle
Despite what you may hear in the press/media, house prices don't just go up.
They naturally rise and fall throughout the course of a year.
This is primarily due to changes in buyer demand levels.
It's as regular as clockwork but of course can be disrupted by outside events like Government intervention (the changes to Stamp Duty Land Tax being a prime example).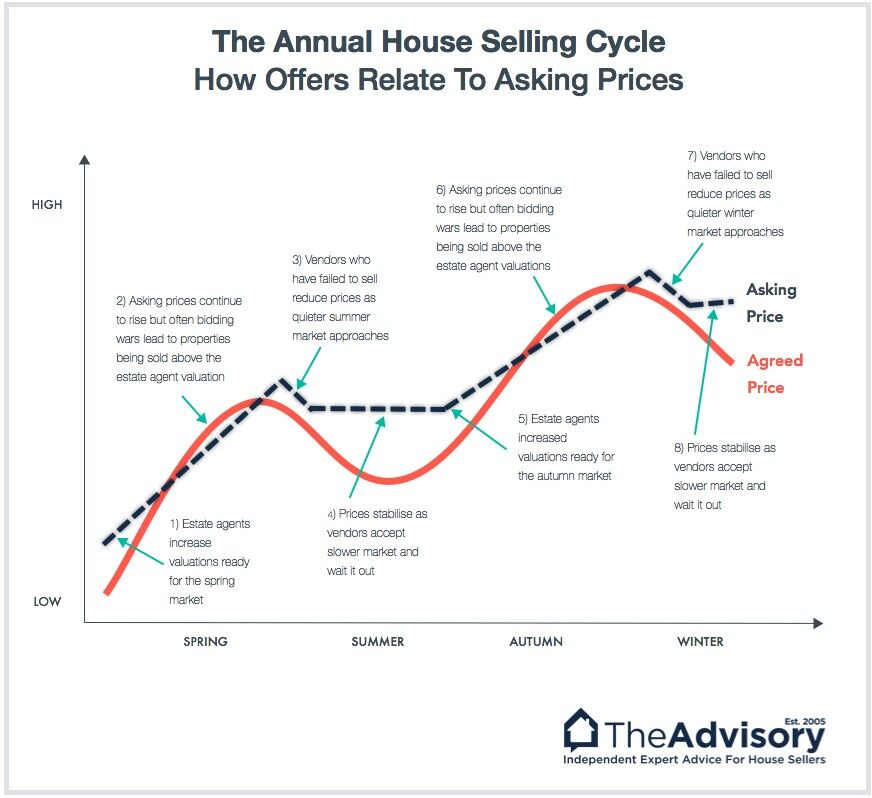 The 4 seasons compared
Historically, Spring to early Summer has always been considered the best time to put a house on the market.
In particular, we always notice the market pick up after the Easter Bank holiday and remain active right up until the start of Summer School holidays.
Below we break the seasons down to give you an even clearer picture of when it's a good time to sell.
Spring
March = GREAT
April = OK (look out for Easter holidays)
May = GREAT
Conventional wisdom
Spring is overall a great time to sell because:
Gardens are in bloom.
There's plenty of good light and mild weather.
Properties look their best.
The market is full with buyers.
In good weather buyers are more prepared to go house hunting.
As such, Spring is a pretty up-beat time of year and often considered to be the time when the most buyers are active in the market.
The flip side is that it's also when you can expect to be up against the greatest number of competing sellers.
To spark a potential bidding war the savvy seller will make their property stand out by pricing it competitively.
Summer
June = GREAT / GOOD
July = OK
August = POOR
Conventional wisdom
Summer is a mixed bag and high summer, in particular, can be a poor time to sell (especially if your target buyers are families).
School Holidays are the big reason for this. Entertaining kids leaves little time for house hunting.
Plus, everyone else goes away on holiday. This peaks around August and the market dies.
If you have to sell around this time of year, try to get it on the market as early as possible.
If you're not on the market by the start of July you will be putting yourself at a disadvantage.
Most likely, you'll find yourself up against properties that failed to sell over the Spring (probably due to them being overpriced).
Definitely take this into consideration when deciding how to pitch your asking price against these stale properties.
Keep a close eye on the competition because it's around this time that frustrated house sellers start to knock lumps off their asking price.
You will need to keep your property looking competitive in the market in order to get buyers through your door.
Autumn
September = OK
October = GREAT
November = GOOD
Conventional wisdom
Autumn has always been a good time to sell a house.
It can be argued that house buyers are even more motivated at this time of year.
There tends to be slightly less of them in the market compared to the Spring, but those that are there are 'serious'.
Remember though, almost nobody wants to move over Christmas so don't leave coming to market too late.
After October, buyers like bears, tend to go into hibernation.
As seen in our analysis of Rightmove 'time to sell' data, November comes out on top as the worst time to come to market.
Winter
December = POOR
January = POOR / OK
February = GOOD / GREAT
Conventional wisdom
Winter is definitely not the ideal time to sell.
But it can be a great time to buy!..
House sellers still on the market in December tend to be very open to negotiation on price (just to get it all over and done with).
Selling in the winter (in-depth)
It's absolutely possible to sell in winter (houses are bought and sold almost every single day of the year).
However:
Visitor traffic to Rightmove (which is an excellent proxy for nationwide buyer activity levels) drops off significantly in the run up to Christmas.
We would actively discourage anyone coming to market before Boxing Day (unless they absolutely have to).
If you can hold out you'll put your sale in a much better position.
Should you launch just after New Year's Day?
Lots of sellers come to market in early January having sat on the side-lines over December.
And it's true; the New Year brings a lot of 'new leaf' syndrome…
…Potential buyers start to commit to making it 'this year' that they move and so estate agent applicant registers start to fill.
However, the real buying action doesn't happen until the middle of February.
Pro Tip: In our view, it's better to sit tight and wait until the first half of February before you launch.
Why?
It's because this early January first wave of 'new to market' properties all tend to look a little stale by February (when the real buying begins).
If you hold off until then, you become the one selling the more desirable 'fresh to market' property.
You also feature at the top of the list (i.e. are more visible) when buyers searching Rightmove sort their search by "Newest Listed"…
If you've not sold by Christmas should you take your home off the market?
We would! Here's why…
…It used to be that you could take your property off the market and rest it for 2 weeks.
Your agent could then re-upload your property to Rightmove and it would be treated as a 'new listing'.
That changed in December 2016.
In an attempt to combat Portal Juggling Rightmove now require the property to remain off the market for 14-weeks (up from 2 weeks).
That is unless of course you decide to fire your current agent and instruct a new one:
New estate agent = New Rightmove listing
So what's the best strategy for sellers still on the market in the run up to Christmas?
Lets take a closer look at what's going on:
Exhibit A: Rightmove visitor stats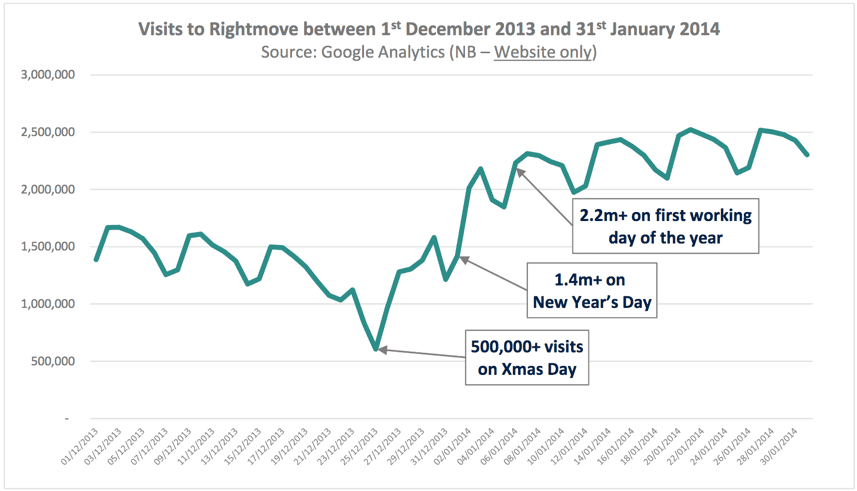 As you can see, visitor numbers to Rightmove in the run up to Christmas are well behind those in the 2nd half of January.
We can also see that visitor numbers spike on Boxing Day & New Year's Day.
If you want to stick with your agent, you can't take your property off the market for less than 14 weeks.
If that's simply too long to wait, there's is a lot to be said for staying on the market over this time in order to expose yourself to the 'festive' buyer surge on Rightmove.
It's really November & December (up to Boxing Day) when the market hits the doldrums and you just rack up 'days on market' with very little interest to show for it.
Pro Tip
If we'd come to market in say, September and was unsold by November, we'd:
Take our property off the market
Change agent (avoiding the 14-week rule)
Re-launch on Boxing Day
That strategy would put us top of the pile when buyers, fat on turkey, break from their annual game of Monopoly to turn on computers and look at real bricks and mortar.
Furthermore, there would be two things to bear in mind (especially if viewings had not been forthcoming):
We were probably asking too much money for the property.
If the agent had not impressed between September – November, it's probably time to change agent anyway.
Pro Tip
When instructing an estate agent in the Autumn, pay particular attention to how long their agency tie-in period is.
Try to negotiate it down as far as possible (just in case you do find you want to change agent before Christmas).
Is there a best day to sell a house?
In practice, we believe it more important to avoid coming to market just before bank holidays, major sporting, and cultural or political events than it is obsessing over which day of the week to launch.
That said…
…Over the years there have been a number of studies into which day is best to stick your house on the market.
In our opinion none of these studies are conclusive but below you can make up your own mind.
Which? (2017)
Consumer group Which? looked at thousands of properties sold in the twelve months to 30 September 2016.
Best day = Monday
Properties advertised on a Monday took on average 176 days to sell (from being first marketed to legal completion).
Worst day = Sunday
Properties launched on a Sunday took on an average 213 days to sell.
More: Which? study
Zillow (2017)
Zillow is the American version of Rightmove.
They love to crunch 'da data' man.
Best day = Saturday
Best month = May
Zillow found that property advertised on a Saturday received 20% more online views than early-in-the-week listings.
They also found that property listed between May 1st – 15th sold 9 days faster than average and for 1% above asking price.
More: Zillow study
Rightmove (2014)
Rightmove don't seem to do interesting data analysis these days.
They used to, and back in 2014 they revealed the following nuggets:
Friday 4pm is the most popular time to estate agents to upload new properties to the portal.
Friday afternoon are one of the quietest times for people home-hunting on the site.
The peak time for people searching Rightmove is Tuesdays at 9pm
More: Rightmove study
TheAdvisory recommends
Taking everything into account…
Our preference would be to set property live in the market anytime between Monday (5am) – Tuesday (9pm)
That will coincide with the traffic peak on Rightmove and give enough time for viewings to be arranged for the weekend.
Pro Tip
Please know – IT IS NOT ALL ABOUT RIGHTMOVE!!!
Property portals such as Rightmove & Zoopla are responsible for only 43% of successful sales [1]
Above average estate agents do more than just rely on Rightmove to find them buyers.
That said, (and because it's interesting) you can see typical daily visitor volumes to Rightmove below…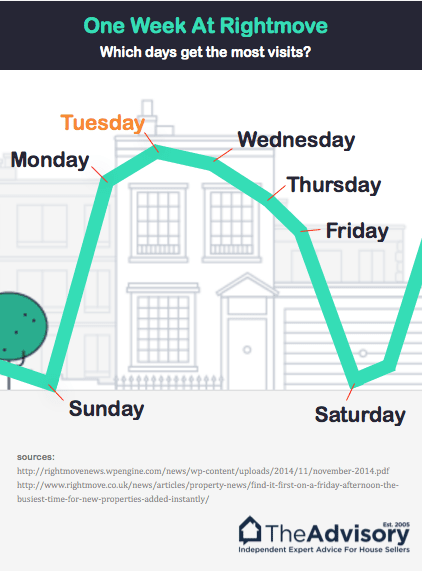 The wisdom in avoiding the 'off-season'
Coming to market during a quiet time robs you of a great opportunity.
As a general rule of thumb, the most intense interest a property will get comes within the first 4-6 weeks of it going to market.
This is the 'Golden Window of Opportunity' for house sellers because it's when most competitive bidding happens.
This is also the amount of time buyers in the market perceive a property to be 'fresh' and desirable.
After this period property becomes 'old news' and buyers start getting suspicious.
They tend to assume something is wrong with the property and stay away.
If you come to market at a 'quiet time' (August for example), your property will look aged by the time the majority of buyers do come back into the market around mid-September.
Another point to bear in mind is that estate agents are only human…
…Many can (and do) get a little bored with old stock.
If your house isn't getting much interest because it's perceived by the market as 'stale', your agent can neglect it as their attention shifts to fresher (newer) instructions.
The wisdom in avoiding the 'peak-season'
Conversely, there can be some benefits in taking a contrary approach to the conventional wisdom:
The buyers in the market during 'off-season' are usually highly motivated to do a deal and potentially less picky.
You are competing against fewer properties for sale (or the ones that are for sale are 'stale') and so it's easier for your property to stand out.
Solicitors, mortgage lenders and surveyors are less busy and more available meaning things should move quicker once you accept an offer.
Other important considerations
In addition to seasonal variations (and all the above advice), the savvy seller is also aware of…
Major works & projects
What (if any) major works have your Council granted Planning Permission for?
For example:
New roads
Major construction projects
The block of flats about to be built next door
The planned mobile phone mast that's will ruin the view from your kitchen etc
If you know about any of these things, your buyer's solicitor will find out about them too.
You can then expect some haggling over your price to ensue.
If possible, it's best to delay putting your home on the market until these sorts of projects are finished.
Experience tells us that buyers tend to find it pretty difficult to deal with the unknown.
Give them an opportunity and they will always fear the worst.
It just makes the job of trying to sell a house that much harder.
Final thoughts
Remember, it only takes one buyer to successfully sell a house!
In reality there are buyers out there 365 days a year.
Just some days there are more than others.
Here at TheAdvisory we're big believers in marketing property as aggressively as possible, whatever time of year you sell.
As mentioned at the top of this guide, encouraging competition is the surest way to achieve the best possible price (in the shortest time).
If forced to sell a house during a quiet month – please don't worry!
Just recognise you're at a disadvantage and act accordingly:
Price your house competitively against the competition.
Choose the most suitable estate agent for the job.
Put extra effort into the presentation of your property.
And if you need to sell within 7-14 days, discover the best way to sell your home quickly and avoid scams – AVOID SCAMS
Related guides
Sources, citations & credits