Insider insights:


Should You Use Purplebricks?
Learn why the high street will get you a better result.
Keep reading to discover…
How to identify the best estate agent for your sale
How to get the best price for your old home
How to make sure you secure that new home
And lots more…
---
---
Table of Contents
---
Introduction
Q. "Why do the best high street agents get better results than the best nationwide internet only agents?"
It all boils down to this:
The best local high street estate agents have greater knowledge of (and contact with) the buyers currently active in your local market.
High street estate agents don't just have 'local knowledge', they have…
…'Hyper local market knowledge'.
And whichever agent has the most of it (in relation to your property type and price bracket), is the agent best placed to achieve a superior result from the sale of you home.
High street advantage #1
A smaller (but more targeted) buyer database
We were looking at the Purplebricks website recently and saw this: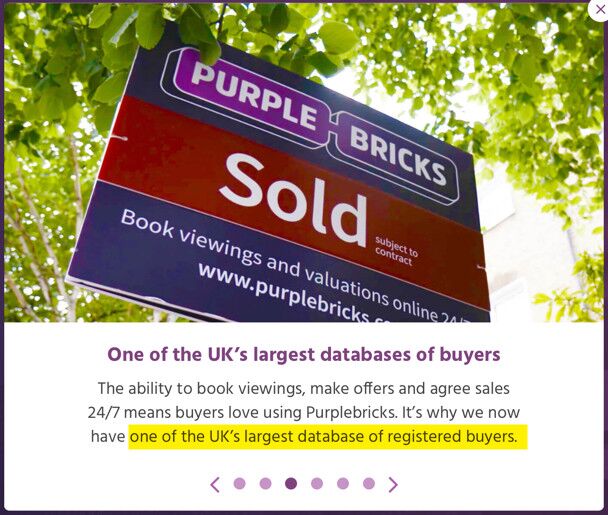 We have no doubt their claim of having "one of the UK's largest database of registered buyers" is factually correct.
But…
In reality, a huge national database is of little practical value to your sale because 99% of the buyers on that database are not looking for property in your area (or price bracket).
Instead…
What you really want is an estate agent with a large local database of buyers looking to buy a property in your price bracket.
National internet agent vs. Local high street agent [database comparison]
To understand how an estate agent's buyer database is built, it can be helpful to compare estate agents to fishermen.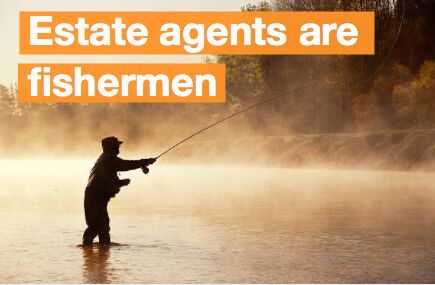 Fishermen catch fish. Estate agents catch homebuyers.
Houses are the bait
Each house an estate agent has for sale acts as 'bait' that attract homebuyers to an estate agent's buyer database.
Once caught and on the database, the estate agent can start to contact these buyers, and encourage them to view (and offer on) your property.
As such, lets look at how the 'bait' from one of the UK's largest national online estate agents stacks up against the 'bait' of a local high street estate agent.
Case study
Selling a £500k property in Cambridge
We're currently looking to buy (and then sell) a £500k property in Cambridge, and going through the process of accessing estate agents (to be instructed to handle the sale), so let's use this as an example.
Below we're comparing a leading national hybrid agent against Cheffins (a leading high street estate agent in Cambridge).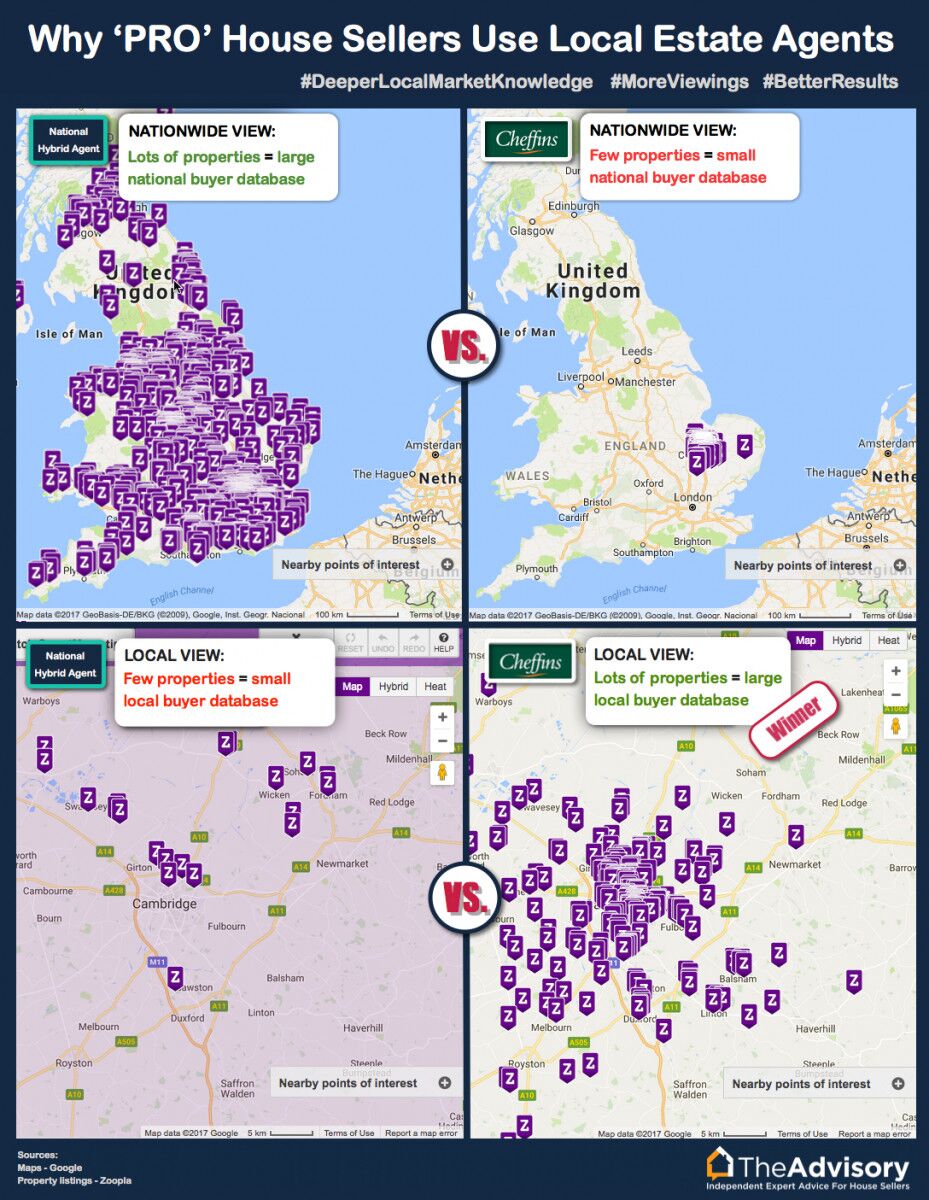 Key takeaways
As you can see, the national hybrid agent has 1,000's of properties for sale right across the UK – They will have a huge nationwide buyer database.
But when you take a local view, you see they don't have much for sale (in the target property's price bracket or area) – As such, they will have a small local buyer database and less 'hyper local market knowledge'.
On the other hand, Cheffins have lots for sale locally around the £500k market – They have more of the right 'bait' and should have greater knowledge of (and direct contact with) more buyers active in our target area and target price bracket.
Bottom line
Cheffins will have more 'hyper local market knowledge' and this will bring the following benefits:
More accurate pricing advice – because they are dealing with more properties and more buyers, they have a firmer grip on the buyer demand levels, affordability levels and what buyers have very recently offered on (and paid) for similar property.
Greater potential to secure a premium price – Because they are in contact with more buyers, they will be able to generate more interest in the property. More interest leads to more competition, which leads to a better sale price.
Better protection against a down valuation – because they have more comparable properties and current transactional precedents, they will be able to present a better case to a mortgage lender's surveyor to back up an agreed offer in the face of a down valuation.
Let us expand on the importance of that last point by sharing a little story from a high street estate agent commenting on an industry trade website.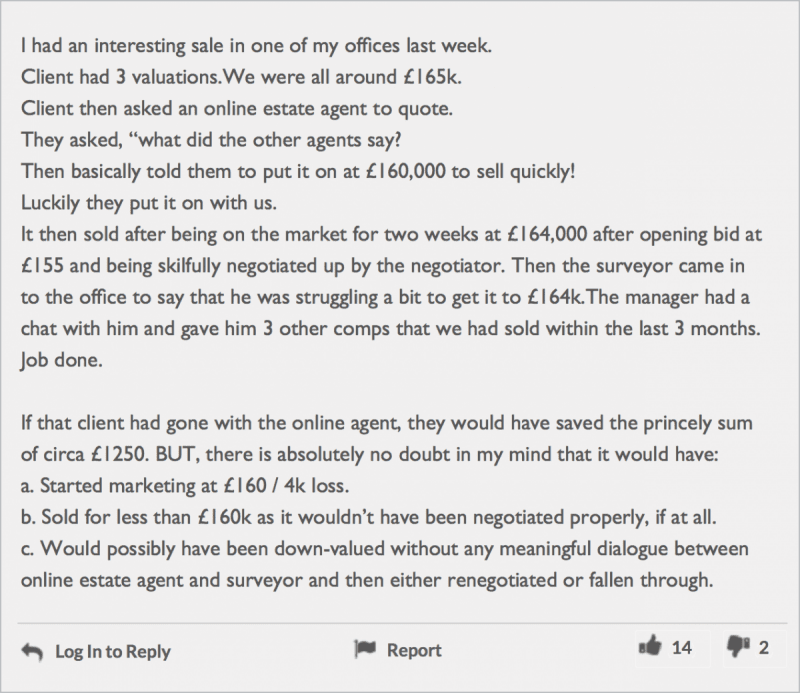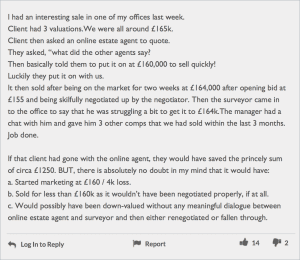 The saving (or earning depending on your perspective) this house seller made by using this high street agent (instead of the internet only agent) was around £4,000.
High street advantage #2
'No sale no fee' increases motivation
At the time of writing, Cheffins had more of the right 'bait' (i.e. homes for sale around £500k).
But online estate agent market share is predicted to rise so things may have changed by the time you read this.
So, let's turn the tables.
Lets for one second assume the internet agent actually has more 'bait' than Cheffins, and so the greater potential to generate viewings (and offers) over and above those that come direct from Rightmove.
Would that potential be realised?
Which agent has the greater incentive to hustle hard and get additional buyers through your door?
Would it be Cheffins who work on a 'no sale no fee' basis and don't get paid unless they sell your property?
Or would it be the national online / hybrid estate agent that gets paid (upfront or deferred) regardless of whether your property sells?
Our money is still on Cheffins because they have skin in the game!
We firmly believe that in the hands of a 'proper' estate agent, the 'no sale no fee' model encourages more proactivity (and a better end result for you) than 'pay upfront / pay for failure' models.
Jayne came to the same conclusion (the hard way):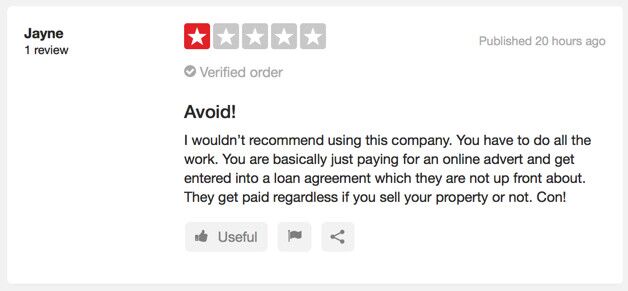 Reality check:
Paying an internet agent upfront (for what amounts to no more than just an online Rightmove adver) can sometime generate the best possible result for a sale. Our recent study indicates this happens about 23% of the time.
Just because a high street estate agent is 'no sale no fee', it doesn't guarantee they will do anything more than simply post your property on Rightmove and wait for the phone to ring.
That said, at least if you get involved with an incompetent 'no sale no fee' estate agent, you won't have paid them upfront to fail to sell your home. You may have wasted some time, but you haven't lost any money.
High street advantage #3
Accompanied viewings + Increased market share
When a buyer requests to view a property, a good high street estate agent (with plenty of stock in that price bracket) will push to give 'hot' buyers a tour of the other properties they have available.
This is especially true of 'no sale no fee' estate agents – They know the 'hot' buyer is going to buy something, and the more properties they show them, the greater the chance of that agent has of making a sale.
What's more, these accompanied tours (and accompanied viewings in general) are one of the best opportunities an estate agent has to build rapport (and hopefully a bit of trust too) with the buyer.
To an outside observer, the agent is making small talk, but really they're fishing for (and gathering) valuable 'Intel'.
And the more 'Intel' an estate agent has on someone:
The more effective and successful they will be when negotiating against them.
The more suitable / informed will be their suggestions of other properties they should go view.
Also, the more properties the agent has in your price bracket, the more buyers they are going to be able to hustle over the threshold of your property.
Here's a graphic to help explain things: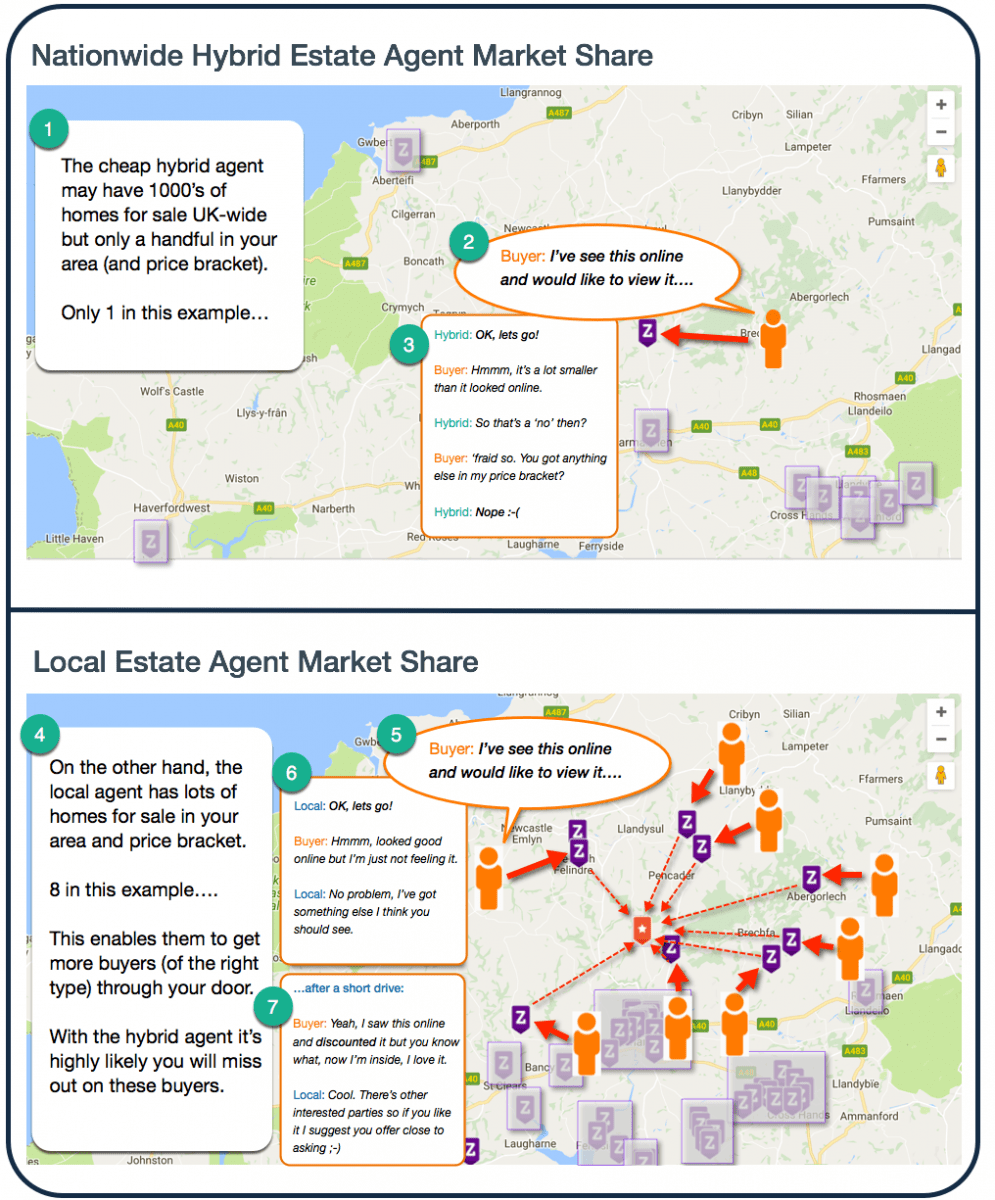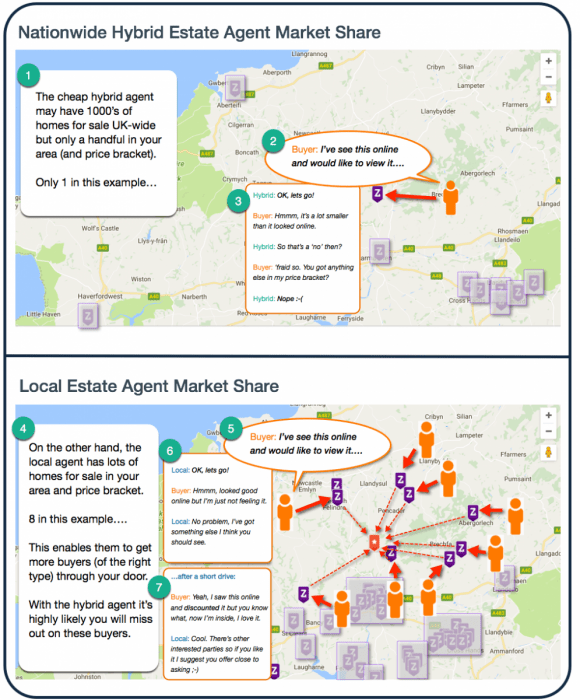 In the example above, using the hybrid agent you just get direct interest from your Rightmove advert.
But use the local agent and you get more interest in your property because they can get the buyers looking at other properties in your price bracket to view yours too.
Remember what Graham Bell, the London MD of Countrywide (the UK's largest full service residential estate agency and property services provider) said:
63% of buyers don't buy the property they initially enquired about [1].
We haven't even talked about sales progression
We won't bang on about this too much but:
Finding a buyer (and getting an offer) is the easy bit…It's what comes next that's tough!
1 in 3 agreed sales never make it across the finish line.
Progressing a property transaction from offer acceptance through to exchange of contract is no sure thing.
It doesn't just happen on it's own, and it's not something you can just leave to the conveyancing solicitors to sort out.
It's a minefield that requires skilful navigation because if something can go wrong, it usually does.
Having an experienced and motivated estate agent on your side pre-empting problems, finding solutions, and addressing hurdles will make the difference between successfully moving home or not.
All things being equal, a no sale no fee estate agent will be more motivated (and invested) in the sale progression process compared to an agent that has been paid upfront.
Sales progression is something that needs to be managed by someone skilful and committed.
Here's an example of what can go wrong: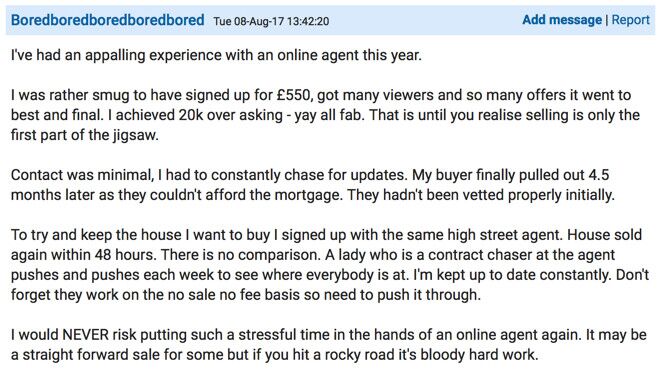 Can a poor reputation for sales progression put your forward purchase at risk?


If you're selling and buying a house at the same time, you would be wise to take note of this because using one of these services may well weaken your position as a buyer.
You may find your seller's estate agent reluctant to present your offer favourably to their client.
If you're up against another buyer, you may find you have to offer significantly more to overcome the negative reputation of your chosen estate agents sales progression processes, and become the favoured buyer.
This will leave you in a situation whereby you've been pennywise but pound foolish, having saved some money on estate agent fees only to then lose it (and more) by having to increase your forward purchase offer.
Or worse, it may actually be the reason you lose out entirely on securing the home of your dreams.
Summary & key takeaways
Compared to internet only listing agents…
…A local 'no sale no fee' agent that has recently (and is currently) marketing an above average level of property in your price bracket:
Has the potential to be in contact with more buyers looking to buy property like yours.
Has the potential to be more knowledgeable about what these buyers are willing to pay (and have recently paid) in today's market, and thus able to give you more accurate pricing advice.
Has the potential to be more motivated to engage with those buyers, and encourage them to view your property.
Has the potential to be able to negotiate more aggressively (and effectively) with these buyers.
Here's a nice email we received from a house seller that has come to realise (too late sadly) what proper estate agency is all about, and why they now believe proper estate agency is not what the internet only services provide: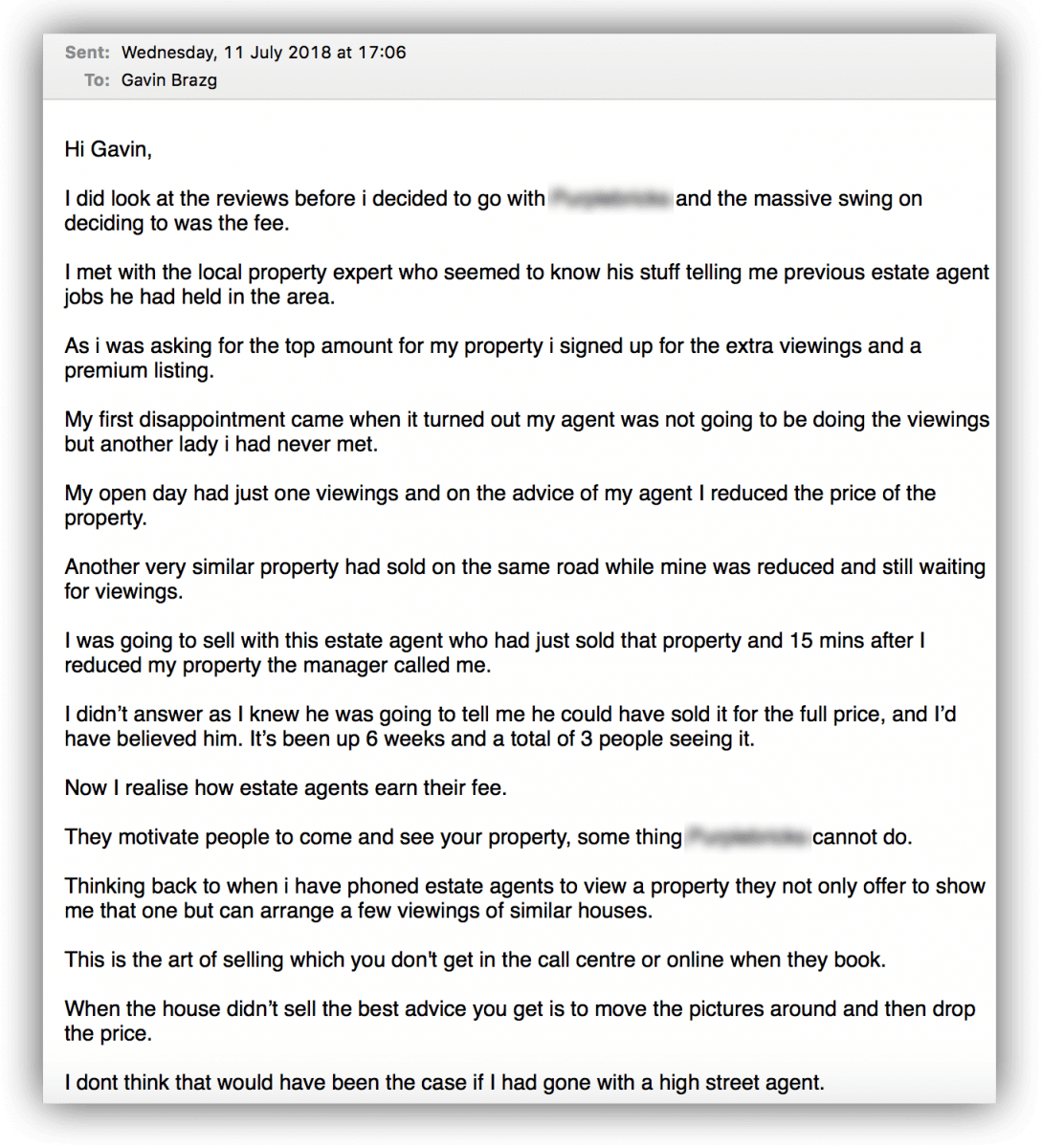 TheAdvisory recommends
Here are our top house selling strategy tips for achieving the best possible result given your circumstances and market conditions:
Hot market
If you have a saleable house in an area of high buyer demand, you're likely to sell successfully via a cheap internet listing service.
However, although you're likely to sell, you're also highly likely to undersell.
Be careful that in an attempt to save on estate agents fees you don't rob yourself of benefiting from the competitive bidding, and increased interest a properly incentivised no sale no fee high street estate agent could bring to your sale.
Don't step over the pounds to pick up the pennies.
The right high street estate agent is likely to achieve a superior end result from your sale and put more money in your pocket (even after fees).
It's the final walkaway figure that matters most, and your choice of estate agent should reflect whom you think is best placed to maximise this figure.
Action: Check PropCast™ to find out if your market is hot or cold
Cold market
If your house is going to be tough to sell, we'd actively discourage you paying upfront to an online / hybrid estate agent.
If you fail to sell, the only course of action will be for you to hack away at your asking price.
If you stick with 'no sale no fee' high street estate agents, you're not only likely to generate more interest in your property, but you also retain the ability to change agent (thus bring in fresh blood / reach a new pool of buyers) without having to write off an upfront payment.
Pro Insights:
Just because one agent fails to find you a buyer at a certain price point, it does not automatically follow that all other agents will also fail.
Property usually fails to sell because:
The agent is incompetent (or unsuitable) or..
The asking price is too high or..
A combination of both factors
If your price is right but your agent is wrong, it makes sense to change your agent before you change you price.
And if your price is wrong and your agent is wrong, it makes sense to change your agent and price at the same time because in the hands of the 'right' estate agent, the price reduction needed (to effect a sale) will be less than the one needed by the 'wrong' agent.
Action: Check PropCast™ to find out if your market is hot or cold
Struggling to sell?
If you are currently on the market with an internet listing agent and struggling to sell, do not blindly take an axe to your asking price.
First speak to a high street estate agent that specialises in selling property like yours.
The minimum effective price reduction (needed to generate a buyer) is likely to be smaller in the hands of the 'right' high street estate agent, compared to an internet only listing agent.
Final thoughts
In our view, internet agents are not 'proper' estate agents – they are just 'Rightmove advertising resellers' and as such merely an enhanced DIY / For Sale By Owner (FSBO) house sale service.
Point of clarification
We are not anti-online estate agents.
Although we believe them to be a 2nd-class method of house sale, they are a much-needed catalyst causing high street estate agents to raise their game.
However, we do feel the PR tactic used by some in this sector is one that deliberately 'dumbs down' the house sale process, and tried to undermine / diminish the real benefits an ethical and experienced 'full service local agent' brings to the home selling and moving experience.
We believe that causes damage to the health of the UK property market, which is something that should concern all stakeholders / property owners and aspiring property owners.
We'd love to know what you think so please join the conversation below…
Related guides
Sources, citations and credits